State budget cuts may lead to reduced transit services in the Eastern Sierra. The Eastern Sierra Transit Authority has wrapped up a series of meetings designed to hear what the public thinks about cuts to transit services because of an anticipated revenue drop of $160,000. ESTA staff has pointed to possible Bishop Fixed Route service cuts.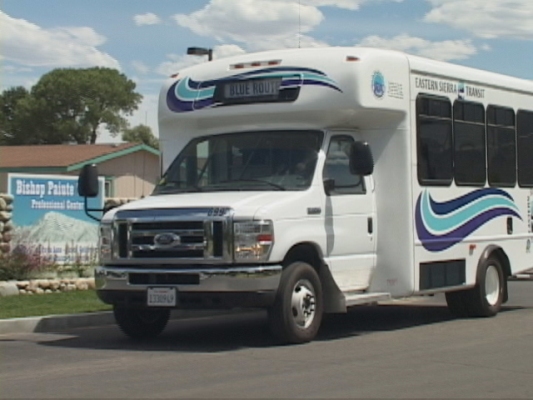 Facing the possibility of operating on less money, ESTA staff has taken a look at possible service cuts. Director John Helm explained that one of the possible cuts could be to the fixed route bus service in the Bishop area.
Helm explained that the fixed route service in the Bishop area was expected to carry about 8 riders per hour, but instead is coming up short with an actual 3.8 riders per hour. Fixed route service in the Bishop area is difficult due to the spread out nature of the city and surrounding county lands. People who do ride the fixed route service tend to live near the stops, Helm explained, but others may not choose to walk the distance to the fixed route bus stops.
With the rider numbers coming in low, Helm says that its possible that the Dial-A-Ride services could pick up the slack.
While ESTA prepares for the possibility of cuts, the financial situation may not be so bad as anticipated. Transit services are paid for out of state sales tax, Helm explained, adding that the latest news on sales tax revenue appears to indicate that the cuts will be less than $160,000.
ESTA staff is expected to use the public input to present the Transit Board with options for cuts at their July 30th meeting. If the board does approve the cuts, the reduced service would start by the end of August.