Press release
Eastern Sierra Transit will be offering addition bus service Memorial Weekend. New this year will be Nite Rider service Thursday through Sunday nights and the Lone Pine Express will be running on Saturday, along with the traditional Mule Shuttle will be in circulation though out Bishop.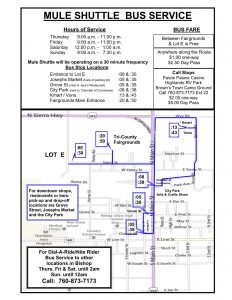 MULE SHUTTLE
The hours of operation are:
Thursday 9:00 a.m. – 11:00 p.m.
Friday 9:00 a.m. – 11:00 p.m.
Saturday 12:00 p.m. – 1:00 a.m.
Sunday 9:00 a.m. – 7:30 p.m.
The Mule Shuttle will be operating on a 30 minute frequency
Bus Stop Locations:
Entrance to Lot E
Josephs Market (back of parking lot)
Grove St (next to Jack's Restaurant)
City Park (next to Chamber of Commerce)
Kmart / Vons
Fairgrounds Main Entrance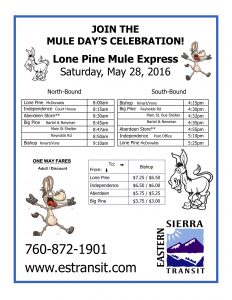 Rides are $1.00 and Day Passes are only $2.50 and can be purchased from the drivers.
For our Mule Days visitors staying at Highland RV Park, Brown's Town Campground, or those going to the Paiute Palace Casino call 760-873-7173 for a pick-up. The discounted rate for the locations is $2.00 a ride of day passes can be purchased for $5.00.
NITE RIDER
Nite Rider Bus service will be operating THURSDAY, FRIDAY, and SATURDAY nights from 6:00pm until 2:00am. As well as SUNDAY night 6:00pm until midnight. Fares are $4.20 per ride.
LONE PINE EXPRESS
The Lone Pine Express will be making a special Mule Days run on Saturday, May 28th. Departing Lone Pine at 8:00am with stops in Independence, Big Pine. Arriving in Bishop at 9:10am in time for the Mule Days Parade. The bus will depart Bishop from Vons/Kmart at 4:15pm returning to Lone Pine. Don't miss out on the opportunity to see the parade, stroll through the art in the park and maybe even catch a mule show.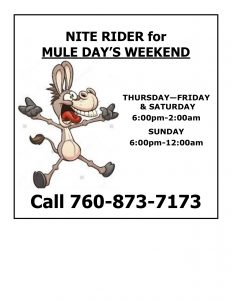 BISHOP DIAL-A-RIDE
Bishop Dial-A-Ride Service will be operating regular service hours to serve the greater Bishop area. Fares are $2.40 for seniors and disabled and $3.00 for adults. 760-873-7173
MONDAY, MAY 30TH
All Eastern Sierra Transit Authority / 395 Route services will be closed on Memorial Day, Monday 30th, except for the service within the Town of Mammoth Lakes.
###
estransit.com