The world lost a beautiful and cherished soul this past December 18th, 2015. Our dearly beloved Beverly Jean Efsaif, the always smiling, always glad-to-see-you wife, mother, grandmother, great-grandmother, auntie, friend, confidant, mentor, listener and volunteer, passed away so unexpectedly, yet ever so gently at her cozy, comfy, open-doored cottage in Bishop, California.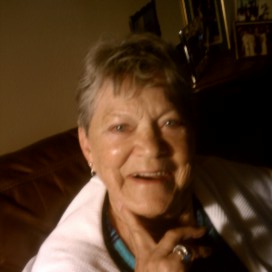 Her warm embrace, her out stretched hands, her generous nature and her loving eyes are felt, once again, by those who have been waiting for her patiently on the other side of this miraculous and wonderous life. She shared these gifts with those of us left behind readily, consistently, freely and selflessly, for which all of us are eternally grateful. Her impact in so many people's lives; from family to friends, to families of friends and often times complete strangers, was a gift from God, as real as it gets and right here on earth.
Born September 26, 1930 in Stockton, Ca. to George and Minnie Bauer. They moved to Oakland, Ca. and then settled in San Francisco, Ca. where Beverly went to grammar school, junior high school and graduated from Mission High School in 1948, where she met her husband of almost 60 years, Walter William Efsaif.
They were married in 1950, had their first child, Laurie Lee, in 1951, their second child, Michael Dennis, in 1953 and third child, Jo Ann, in 1956. The family moved from San Francisco to Redwood City, Ca. in 1957 and settled in to a magical lifetime of sharing their love and joys with friends and family, establishing themselves as a warm and inviting household, where all were welcome, anytime.
Beverly lived a full and rich life. Beverly and Walter traveled to many places together around the world with lifelong friends. She worked alongside her husband Walter for many years in his CPA office. She had an amazing ability to learn quickly, to assist her family and friends in any capacity. She was an office assistant, bookkeeper, did home improvement, wood splitting, gardening, sewing and cooking.
She had the gift to organize anything she touched. Sincerely, she could walk into a situation and when she walked out it was in order. She taught everyone to appreciate music, dancing, God, playing, singing but most all loving. After retiring to Donner Lake, CA Beverly worked as a teacher's aide with special needs children. She had an amazing affect on her students. Wherever Beverly lived she was not only devoted to her family and friends she was very active in her community with her church, bible study and senior center.
Beverly was predeceased by her husband, Walter William Efsaif, and is survived by her three children, Laurie E Douglas of Torrance, CA, Michael D. Efsaif of Roseville, CA and Jo Ann E Stoltz of Bishop, CA. She was a loving grandmother to Michael W. Douglas, Justin G. Douglas, Melissa K. and William D. Guilford, Jamaica Thomas, Rebecca and Ry Jackson, Kaitlin M. Efsaif and Adam Booker. Beverly adored her great grandchildren to the core, Kadence, Kaili and Brady Guilford, Kyle and Jake Thomas, Carter Jackson and Ashlyn Booker.
Beverly has left her legacy within each and every one of us. As her family we are so lucky to have had such a beautiful example to live by. We will carry you with us always mom, gram and great gram, Auntie Bev, Bev my friend.
A Celebration of Life will be held at the First United Methodist Church at 10:00 am on Tuesday January 26, 2016 with reception to follow.