Press release
Eastern Sierra Music Festival (ESMF) is please to announce the addition of Old Southern Moonshine Revival to the line-up for its inaugural event, July 22-23, at the Tri-County Fairgrounds in Bishop.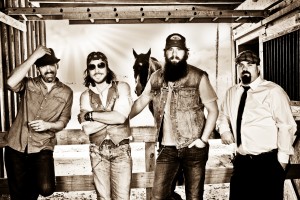 Old Southern Moonshine Revival gained the attention of country music fans with its recent singles, Brand New Song and Waste Another Beer. Both songs are featured on the band's EP, Can You Feel It Now, which debuted in the iTunes top 100.
"It has been a ton of hard work, but we love what we do," said lead vocalist Marcus Kiser. "These songs hit close to home for us, and we are finding that they hit close to home for a lot of people. That's a pretty special connection between the artist and the listener. We don't take that sort of thing lightly."
Neither do the fans. Old Southern Moonshine Revival has shipped music or merchandise to 40 different countries around the world, have 120,000-plus online friends/fans/followers, and "The Revival", as they call it, is still growing. In the past two years, the band has headlined shows and opened for artists like Florida Georgia Line and Parmalee.
At the Eastern Sierra Music Festival, Old Southern Moonshine Revival will be the opening act for Saturday night headliners, Larry Gatlin and the Gatlin Brothers. They will also play the Saturday night after hours party.
"We love our job. We take it very seriously, but it is hard to not have fun playing music for a living" explains lead guitarist Brent Lain. "We enjoy the hard work side of this business. It is gratifying to see our hard work come together into something way bigger than ourselves."
Old Southern Moonshine Revival has a unique sound and a unique approach of making that sound heard. "Passion. Above all else. Passion." adds bassist Jamie Shaver. "People know when you're faking it. They know when you don't believe in what you're doing."
Of all the four band members, Shaver is perhaps the most familiar with Bishop as he is
married to Bishop High alum, Devon Dougherty Shaver, class of 1994. The couple and their family make their home in North Carolina.
Tickets for the Eastern Sierra Music Festival are on sale now. Visit the Eastern Sierra Music Festival's website at www.WWMusicFest.org to get yours.
Proceeds from the festival will benefit the Wounded Warrior Center, set to be built in
Mammoth Lakes.