The group that has worked with ranchers and other land owners on conservation easements, completed a project of a different sort that they say will preserve 33 acres above Crowley Lake.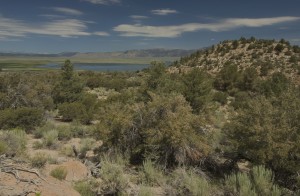 The Eastern Sierra Land Trust and Department of Fish and Game had identified land in the Crowley area as important wildlife habitat. The Round Valley mule deer herd migrates through a corridor that includes the 33 acres. Director of ESLT, Karen Ferrell-Ingram, said that the Haber family had placed the land on the market for more than 5 years. The Land Trust bought it, and will build a trail to help people enjoy it, including school students.
It's called the Crowley Hilltop Preserve because of a knobby hill at the top of the property, shown in the above photo. Spokesmen said that the deer corridor is "increasingly being squeezed between new developments, Highway 395, and the steep-sloped ridges of the Sierra Nevada."
Officials believe this would eventually threaten the viability of the mule deer herd. With money from the California Wildlife Conservation Board, the Land Trust bought the 33 acres that had been slated for development. The 33 acres, which include a small meadow, creek and vistas, represents the first land preserve project of the Land Trust. For more info, go to www.easternsierralandtrust.org .