Ernest "Ernie" Albert Blunt, a resident of Bishop for 60 years, passed away on May 22rd at the age of 84.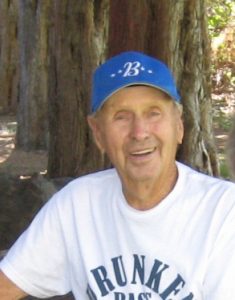 Ernie Blunt was born on November 2, 1931 in Lone Pine, California.  Ernie split his high school years between Owens Valley High School where he lettered in baseball, Glenns Ferry High School in Idaho, and Bishop High School. Throughout his youth, Ernie worked as a packer for the Parker Blunt Pack Station taking visitors on mule packing adventures into the mountains.
Ernie joined the United States Air Force in 1951 where he served until 1955 in England at the RAF Fairfield air base as a mechanic.  He met and developed a courtship with Margaret "Peggy"Rose Price.  He proposed to Peggy prior to his return to the United States.  Although they planned to get married in England, paperwork held things up. They were married a month later on July 18, 1955, at St. Timothy's Episcopal Church in Bishop.
Ernie initially joined the California Department of Transportation (CALTRANS) in 1955.  He left CALTRANS and went to work for Inyo County in their Engineering Department in 1956, but returned to CALTRANS in 1957 and worked as a Heavy Equipment Mechanic in Bishop.  Ernie spent 34 years with CALTRANS and officially retired on December 30, 1991.
Ernie spent his retirement years deer hunting, fishing, camping, attending Mule Days activities and his favorite activity—garage sales. Prior to his wife Peggy's death one year ago on Mule Days, Peggy and Ernie were "regulars" at every local yard sale.  It is weirdly coincidental that both would pass
within 24 hours
of exactly one year apart.  Both Ernie and Peggy were to celebrate their 60th wedding anniversary last year.
Ernie is survived by: daughters Helen Waitkus of Bishop; and Mandy McCarthy of Rohnert Park, CA; grand-daughter Kelsey McCarthy of New York City; and grandsons Joseph Blunt of Wasco, Oregon and Jack McCarthy of Orange County, CA.
A funeral and a public celebration of life service are not planned at this time but may be held in the future. Instead of flowers, please consider a tax-deductible memorial donation to the American Legion or Veterans of Foreign Wars (VFW).