Ten years ago, Los Angeles Times Magazine published a prominent article about Ernest Kinney of the Owens Valley. The writer said Kinney used his art to let people know what the Owens Valley was like before Los Angeles took the water.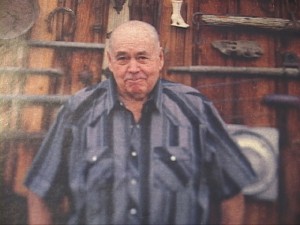 Ernie Kinney has now died at the age of 90. He was born in the Owens Valley, and he died at his home in Bishop with family members at his side. Ernie's family said he lived a wonderful life and was the Owens Valley's legendary storyteller.
Kinney's irreverent sense of humor directed much of his art. As one relative said, "He was best known for his historical art that documented the Owens Valley before, as he would say, L.A. raped it of its water. He was also known for his humorous artwork featuring mules and jackasses," she said.
One of Kinney's paintings that told the story of L.A.'s grim takeover of valley ranches and lives is called "Mulholland's Harvest" – a scene of an abandoned silo and unkempt fields.
Many of Kinney's cattle paintings can be seen in a mural on the side of Union Bank with a thumbnail of the artist himself. He knew and loved the west and its mules.
Ernest Kinney rode asthe Grand Marshall of the Mule Days Parade in 2002, was a guest lecturer at UC Irvine and appeared in the PBS series, Cadillac Desert with his historical knowledge of the Owens Valley and the water wars.
He served in the US Navy in World War II, was a member of the Elks Lodge and E. Clampus Vitus. He is survived by his wife Virginia "Yan" Kinney, daughters Georgia Bopp, Ann Morett and Mary Kinney; and sons, Scott Kinney and Richard Kinney.
The family wanted to thank the Hospice of the Owens Valley; those who wish may donate to the Hospice in Ernie's memory or to Friends of the Bishop Library.
Daughter Georgia wanted to invite everyone to Ernie's Celebration of Life, Thursday at 10 a.m. at the Bishop Elk's Park on West Line St.