Highway Patrol officials continue their effort to interview accident victims from that horrific wreck last Monday south of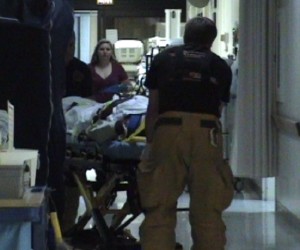 Bishop. Local CHP officers said that a final interview with burn victims from an SUV involved in the wreck will take place Friday. The exact cause of the accident will go public after that.
Meanwhile, many of those involved in the accident as victims and emergency responders continue the work to heal and to understand what happened. In the case of Northern Inyo Hospital, that was the chaotic scene last Monday night when the severely injured were delivered for care by local ambulances. Several were stabilized and flown out to other hospitals.
A visiting emergency room doctor with Valley Emergency put his reaction to the event in writing. Dr. Paul Beatty wrote an open letter to the staff of Northern Inyo Hospital. That letter is posted under Letters to the Editor of our website.
In the letter, Dr. Beatty said he has been an ER doc for 33 years. He said even so, he does not have the words to describe the horror and intensity of what they all saw that night. The doctor wrote, "I have never worked so hard or so fast.
"I have never had to ask a staff to go so far, so long. Over and over again," he wrote, "the quality of this group shone through." Dr. Beatty said he stands in "awe at the level of professionalism I saw. I am amazed," he said, "by the volunteers and the ready willingness to get to work and save lives. The team work was top notch."
As we have reported, three people died in that terrible wreck, 15 others were injured – some critically and others with minor injuries. Four people remain hospitalized.