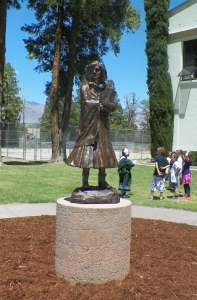 Native American Alice Piper Honored with Statue
By Charles James
Recently, a new memorial statue was unveiled on the lawn outside of Big Pine High School to honor local Paiute heroine Alice Piper. It was 90 years ago in 1923 that the 15-year-old Native American from Fish Lake Valley and six other Native American students were denied entry to the newly built Big Pine High School on the basis of their race.
The full-size bronze statue by Matt Glenn of Big Statues of Provo, Utah, shows a young Alice Piper holding school books as if she is ready to start school. "We wanted her to be true to her contemporary time, yet still look like a Paiute girl," says BPUSD Superintendent Pamela Jones about the statue. 
Superintendent Jones, along with the brother and sister team of local tribe members Sage and Shannon Romero, and Alicia Peterson, a 2013 graduate of the high school, spearheaded the four-year effort.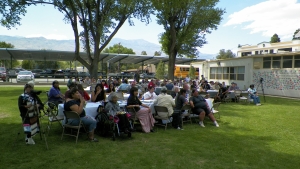 Admirers and dignitaries from around the county and state, including representatives from several Native American tribes, attended the event. It was Piper's case in 1924 before the California Supreme Court in Piper v. Big Pine Board of Education which ended California's ban on Native American children attending public school if there was a separate government-run school within three miles of the public school.
It was a very big deal: A landmark civil rights and education win for Native Americans.
The story behind the case was that the Big Pine District Board of Trustees had agreed to allow Indian students to attend the new school if their parents voted for a measure that would fund the construction of the new Big Pine High School.
At that time, federally-supported Indian schools only provided education up to the 5th grade level. While the bond to build the new high school passed, the Big Pine's board of trustees refused to honor their agreement, citing the state law that banned Indians from public schools.
In 1923, when Piper and six other Indian children arrived at the high school and denied entry, a lawsuit was quickly filed on their behalf suing the school district saying that their 14th Amendment rights (citizenship rights and equal protection of the laws) had been violated. The case moved quickly to the California Supreme Court where, on June 2, 1924, Piper won her case, although not on 14th Amendment grounds, but rather that she was an unaffiliated tribal member not connected to an officially recognized tribe and therefore could not be denied access to a public school.
The case set a precedent for several civil rights cases in the years to come, including the landmark United States Supreme Court decision on Brown vs. Board of Education in 1954 that effectively ended the "separate but equal" law doctrine that had allowed public schools to be segregated. That decision stated that "separate educational facilities are inherently unequal."
It has been four years since the Big Pine Paiute Tribe and Big Pine Unified School District agreed to commemorate Piper's victory by placing a statue in front of the school in her honor. It was dedicated on Monday, June 2, 2014, which was the 90th anniversary of her court victory. The date had an added significance as well as, on June 2, 1924, President Grover Cleveland signed the Indian Citizenship Act declaring that all Indians, regardless of membership in a tribe, are citizens of the United States.
Today, 56% of the students who attend Big Pine high school are Native American.