The Ultimate Christmas Show (abridged) comes to the Edison Theatre
Enjoy this hilarious romp through every holiday story ever told Dec. 14-30
(Press release) Mammoth Lakes — The Ultimate Christmas Show (abridged) by Reed Martin & Austin Tichenor of The Reduced Shakespeare Company, is a tummy tickling, irreverent, and heart-warming romp through every known holiday tradition.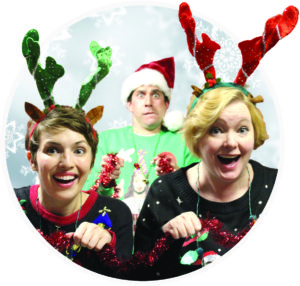 The production is directed by Drina Durazo of Los Angeles, her fourth imported production for Mammoth Lakes Repertory Theatre's Artistic Director and the show's Producer, Shira Dubrovner. Durazo's previous MLRT productions include Ken Ludwig's farce Baskerville, A Sherlock Holmes Mystery, Every Christmas Story Ever Told (and then some!) and All the Great Books (abridged).
"I'm excited to have Drina bring this hilarious holiday show to Mammoth for us," stated Dubrovner. "She's a talented director and has the ability to cast terrifically talented professional performers and bring highly entertaining shows to Mammoth."
The Ultimate Christmas Show (abridged) is a festive, funny, physical, family fun production starring Los Angeles actors Sean Faye, Dana DeRuyck, and Kate O'Toole.
Sean Faye's performances include King Lear, Measure for Measure, The Merry Wives of Windsor, Troilus & Cressida,and Breaking Bard for Porters of Hellsgate; Pumpkin Pie/Lance (u/s) in Pulp Shakespeare for Her Majesty's Secret Players;
Garson in Quick & In My Arms at Fresh Baked Theatre; and Count Charisma in The Girl Who Would Be King for Absolut Theatre. Before moving to L.A., Sean worked steadily with many theater companies in Philadelphia, his favorite roles being Crumpet in The Santaland Diaries and the Vice President in The Apollo of Bellac. Check out Time Again, on amazon.com, where he is a shiftless accountant for the mob.
Dana DeRuyck works with many companies around Los Angeles.
She's a member of Sacred Fools Theatre Company (A Gulag Mouse, Miravel, A Woman of No Importance, Bill & Joan, The Magic Bullet Theory), a founding member of Broads' Word Ensemble (Must Be Comfortable With, Fifty Shades of Shrew), and a resident artist with Porters of Hellsgate (Breaking Bard, The Winter's Tale, Henry V, King Lear, Measure for Measure, The Merry Wives of Windsor, Troilus & Cressida, and The Comedy of Errors).
She's also appeared on Nickelodeon's iCarly and Harry Potter & The Ten Years Later (parody webseries). Find her on YouTube performing with comedy groups Mornings & Mondays, Dreamwolf, and Dynamite Kablammo.
Kate O'Toole has appeared with Los Angeles companies including The Group Rep (The Poor of New York, with Juliana Olinka-Jones) and California Shakespeare Company, and she is a member of Porters of Hellsgate (Deity Clutch, The Comedy of Errors, Merchant of Venice, Troilus & Cressida, The Merry Wives of Windsor, King Lear, and also the award winning production of Breaking Bard).
Prior to living in California, she worked at theatres all over the United States, including The Hampstead Players, The Utah Shakespearean Festival, and The Free Associates Improv Group. Favorite roles include Lainie in Two Rooms, Cinderella in Into The Woods, and Rachel in Reckless. 
The Boston Globe writes, "This production takes you on an irreverent yet heartwarming trip through the holidays. It's festive funny physical family fun as Three Wise Guys send-up and celebrate your favorite winter holiday traditions."
​Tickets and more information are available now for The Ultimate Christmas Show (abridged) by visiting MammothLakesRepertoryThetare.org. Don't miss this show at the Edison Theatre; make it a new, family holiday tradition!
FACT SHEET:
WHAT:               The Ultimate Christmas Show (abridged)
WHEN:               December 14-30, 2018; Thu-Sat @ 7pm, Sun @ 4pm
(no shows December 16 and 24)
WHERE:           Edison Theatre, 100 College Parkway, Across from Cerro Coso College
HOW MUCH:   $20 Adults/$18 Students and Seniors/$11 Children (PG) in Advance;
$22 at the door – no discounts
BUY TICKETS: www.MammothLakesRepertoryTheatre.org
###
The Mammoth Lakes Foundation offers free education (books and tuition) to any Mono County resident and/or high school graduate who pursues an AA degree at Cerro Coso Community College and provides year-round theatre programming at Edison Theatre. For more information or to make a tax-deductible donation, please contact the Foundation at (760) 934-3781 or visitMammothLakesFoundation.org. Our nonprofit work is only possible through your generosity.