The continued burn of the Lion Fire in the Golden Trout Wilderness was deemed healthy for the forest but now not so healthy for humans who have to breath the pervasive smoke from that big fire.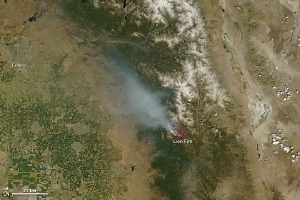 Air pollution control districts impacted by the Lion Fire smoke, including the APCD in the Eastern Sierra, have communicated concerns and now have received word that the Forest Service will sharply trim down the expected burn time of the Lion.  Sierra Wave's weather and atmospheric forecaster, Dennis Mattinson quoted from the Great Basin APCD Smoke Blog Website:
"It may be hard to believe based on today's smoke, but the Lion Fire (http://www.inciweb.org/incident/2400/) is actually winding down. The incident commanders from the Sequoia National Forest have been in daily contact with the California Air Resources Board, the San Joaquin Air Pollution Control District and with us at the Great Basin APCD. They report that the fire has only 5-7 more days during which it will be actively growing. There are just a few hundred more acres around a private property that need to be secured. They will be hand-igniting some of that area in order to accomplish this goal safely. In response to APCD requests, the Sequoia has reevaluated and cut in half the number of acres they feel are necessary to complete this stage. This is greatly appreciated".
Very good news for many in Inyo and Mono who have felt the breathing impacts of the continuous smoke since the lightning caused blaze started July 8th.  The latest reports say that the Lion Fire has reached nearly 20,000 acres in the Golden Trout Wilderness, Sequoia National Forest and Sequoia National Park. At last word, crews had contained the fire by 65% and expect to fully contain it at 22,000 acres.
Initially, the Forest Service said crews would allow the fire to burn through heavy fuels to eliminate the potential for future fires.  According to officials, fire had not burned in this area for 90 to 100 years.