Press release
Emily  Woods  has  been  hired  by  the  Mammoth Lakes Chamber of Commerce  as  the Membership & Marketing Manager for the organization.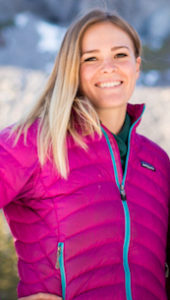 "We  are  very  excited  to  have  Emily  join  the  Chamber/MLT  Team. Her  past  experiences in membership development and her current marketing efforts with MLR made her a very viable  choice",  stated Ken Brengle,  Executive  Director  of  the  Mammoth  Lakes  Chamber of Commerce. "Her knowledge of and her involvement in the Mammoth Lakes community makes her ready to hit the ground running when she gets on board".
Woods said: "I am very much looking forward to working with not only the Chamber of Commerce and Mammoth Lakes Tourism team, but the small business community in Mammoth Lakes as well. We have amazing people in this town doing great things. It will be a pleasure to work with them and continue to enhance the Mammoth Lakes community."
"Emily  will  be  working  on  membership  recruitment,  the  weekly  eNewsItters,  social  media marketing and specific  Chamber events, just  to name  a few"  explained  Brengle,  "We are looking forward to what Emily can bring to the organization."
Woods will begin her new position on Monday, October 29, 2018.