Bishop Police Department News Release
Last March, BPD was contacted by a local resident who accused a former Bishop resident, Leandra Wright, of embezzlement.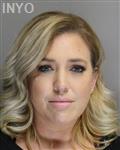 The investigation revealed unauthorized use of funds on a number of different accounts, which Wright managed, along with Wright's failure to maintain payables.
Wright had been handling the victim's finances since 2008. A forensic analysis on the accounts was completed which revealed significant losses over a long period of time.
Once suspect Leandra Wright learned of BPD's arrest warrant, she returned to Inyo County, turned herself into the County Jail, and soon posted bail.
If you have any relevant information about this case or the suspect, please contact the Bishop Police Department at (760) 873-5866.