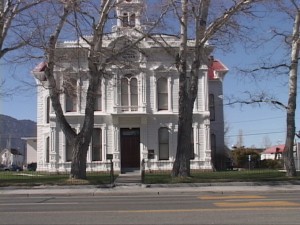 The Mono County District Attorney's office has received and reviewed reports from the FBI and Mono Sheriff on the embezzlement case involving Eastern Sierra Community Bank.  Assistant DA Tim Kendall said that he has no further comment yet.
Former Bank Branch Manager Roxanna Foley, 51 of Bridgeport, is alleged to have embezzled funds from the bank. Authorities have not yet revealed how much money they believe was embezzled.
Assistant DA Kendall did say that Foley is scheduled to appear in Bridgeport Superior Court on Tuesday, April 24th for an arraignment hearing.  He said Foley's arraignment is expected to be continued until May 14th for further follow up investigation, for filing of a complaint with the court and for Foley to appear back with her attorney.
Although Kendall is in discussions with the US Attorney, no agreements have been made to transfer the case from Mono County to federal authorities. Kendall said that he will do more follow-up investigation before commenting further on this case.
Sierra Wave Media has contacted Eastern Sierra Community Bank headquarters for comment, but no one has returned our call.