Elvira T. Heit
1925-2019
Elvira "Ellie" Heit was born in 1925 in Cheefoo, China. Her father Theo Rosenthal was a brewer of Estonian descent and her mother Alma was a housewife of German descent.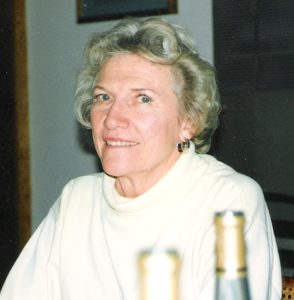 Her father died while she was quite young and at age eleven, she moved with her mother to Shanghai. Six months later she was sent to a boarding school in a convent in Hong Kong for her education. She returned to Shanghai in 1941 due to wartime uncertainties and in December of that year, the Japanese occupied Shanghai. As Estonian citizens, they were not threatened until Estonia was captured by the Germans and then the Soviet Union at which time, they became stateless and were dependent on the Chinese Government. Ellie and her mother survived the occupation of Shanghai without incident.
While in Shanghai she graduated from a convent run high school and completed an English run business school. She did clerical work and eventually became secretary to the U.S. Signal Officer. It was there she met the love of her life, a young officer in the Signal Corp, Irwin Heit. They were married in November 1948 in Shanghai and in December of that year, with Irwin unable to leave China, she embarked alone on the long journey to meet her in-laws in New York.
Irwin returned from overseas early in 1949 and remained in the military until 1954. Ellie became a housewife, raising a son Barry and daughter Bobbi while living in New Jersey, then another son Nathan in New Mexico eventually settling in San Jose then Seal Beach, California.
Ellie was active in the usual parenting activities, Cub Scouts, Brownies, Boy Scouts and Girl Scouts as well as the PTA! In 1990 after Irwin retired, he and Ellie moved to Bishop to be close to their first grandchild Michael. They grew to love the Eastern Sierra, enjoying hiking and exploring while becoming active in the League of Women Voters, IMACA and the Owens Valley Democrats and loved playing Bridge with her friends.
Irwin, her husband of 67 years, died in Bishop in 2015. She is survived by her son Nathan and daughter Bobbi as well as her beloved grandchildren Michael and Elisabeth.
A Celebration of Life will be held at the Highlands Recreation Center, 1440 MacGregor, Bishop, CA 93514, March 8, 2019 from 1:00 – 5:00 PM.