Residents throughout the Eastern Sierra have noticed what looks like dead elm trees in many areas.  A Bishop resident expressed concern about brown or missing leaves on elms along Line Street and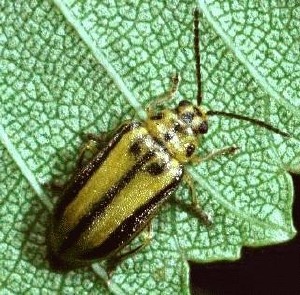 Barlow Lane.  Inyo-Mono Deputy Agricultural Commissioner John Schrader points to elm leaf beetles.
Schrader said the beetles are common pests in the Eastern Sierra.  Their defoliation of elm trees is widespread this year.  Schrader said their destruction has been seen as far north as Lee Vining and south into the Owens Valley.
Both the adult beetles and larvae defoliate and skeletonize the elm tree leaves.  Schrader said homeowners can hire one of many local pesticide companies to protect their elm trees.  Schrader added that the health of the elm trees can also help protect them with proper watering and even use of a systemic insecticide.
The Ag man said it's also important to rake up and remove leaves where the elm beetles hide out and winter over to start their destruction again in the spring or summer.
Schrader said the elm leaf beetle has been around here for years.