Ella Scott Calkins 1919 – 2018
Ella "Bobbie" Calkins, 99, born April 29, 1919 in New Zealand and passed away in Bishop, CA on November 27, 2018.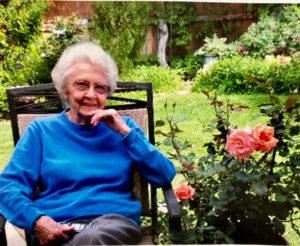 She was preceded in death by her husband; Don Calkins, and she is survived by her daughter; Gail Arcularius and her husband Will of Cedar City, Utah, and by her son Robert Calkins of Wellington, Nevada, and Grandchildren; Gregory August, Bob August, Tina Mosey and Angie Wray, and 3 great grandchildren; Koyl Mosey, Dimitri Wray and Axel Wray.
Bobbie became a war bride when she met & married U.S. Marine Captain Don Calkins while his unit was on maneuvers in New Zealand preparing for numerous island assaults in the Pacific. After the war Don worked for his family's newspaper syndicate in the Central Valley of California and then they moved to Bishop with their daughter, Gail, in 1951.
There will be a graveside service at the East Line St. Cemetery on Saturday, December 1st at 11:00 AM. She and her husband Don will be together again side by side.