Ella Jean Payne
1916-2018
Ella Jean Payne, cherished wife, mother, aunt, grandmother, great-grandmother, and great-great -grandmother passed away peacefully at her home on April 30, 2018. She was 102 years old.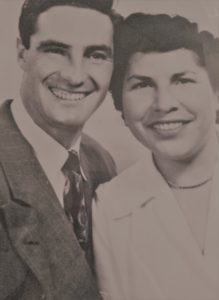 Ella was born March 6, 1916 in Coso Village, Ca, with her twin sister Ethel, to Jim Smith and Annie Bellas.  She graduated from Lone Pine High School in 1935.
After high-school, she had a series of server positions at local restaurants, including Lyons Café.  She proudly took a position working at the counter of Baker's drug store, where she was honored to have the ability to utilize her bilingual skills to assist everyone in her community.  This position always had special meaning to her.
While working at a café in town, Ella met the love of her life.  Paul E. Payne was an active duty serviceman working on a radar tower just north of Cerro Gordo, and it was love at first sight.  One of their favorite activities during the six months that they dated was going to the dances held in Keeler and dancing the night away. They were married on March 28, 1949 with two of her sisters in attendance.  Their love and devotion to each other is a shining example for anyone who knew them together.
While moving their family for new employment opportunities at Edwards AFB their car broke down at Brady's just outside of China Lake, Ca.  Paul was able to find a position on base within hours; this fateful mechanical problem opened a 28-year chapter of love and laughter in their life.  The opportunity provided the family the ability to care for themselves in addition to taking care of other family members and friends in need.
While Paul worked, Ella spent time taking classes and making friends with the wives of active duty service members and civilians.  She began teaching other wives to sew, cook, and specifically make baby clothes.  Her efforts in establishing and maintaining these friendships made her a pinnacle of the community on base.  Her knowledge, sage wisdom, and her loving instruction made an impact on an entire generation.
After Paul and Ella retired, they returned to Lone Pine to be closer to her family.  Here she remained active in the Ladies Auxiliary VFW.  This affiliation was in honor, not only for her husband's service, but her two uncles service as well.  Ella was an elder with the Lone Pine Paiute-Shoshone tribe.  While she was not always an active member of the latter, she would remain active in policy and trend changes.
While she was active in her community, she also owned Lone Pine Feed Store.  Paul and Ella established, owned, and operated the Lone Pine Feed Store from the late 70's to the early 80's, until Paul decided to get into politics, where she remained her husband's staunchest supporter and most trusted advisor.  They also had the ability to care for their youngest grandson, William Swaim, who would remain faithfully close to her until the end.
Her hobbies included going to lunch with her group of friends, crocheting, sewing, cooking, baking, trading recipes, and making baby clothes for her grandchildren.
Ella is survived by her husband Paul, daughters Arline Fath of Lone Pine and Paula Bias of Colorado Springs, Co, eight grandchildren, nine great-grandchildren, and one great-great granddaughter.
She was preceded in death by her parents, her beloved twin sister Ethel Maillet of Lone Pine, Ca, Sister Cordelia Hancock of Lone Pine, Martha Joseph, of Lone Pine, Ca, Dorothy Joseph of Lone Pine, Ca, Thelma Gilmore of Lone Pine, Ca, brother Thomas Jefferson of Lone Pine, Ca, and her grandsons Paul and Phillip Fath of Lone Pine, Ca.
A public viewing will be held on May 11, 2018 at 4-8pm at the Mt. Whitney Funeral Home located at 220 E Post Street, Lone Pine, Ca 93555.
A Remembrance will be held on May 12, 2018 at 11am at the Lone Pine Paiute-Shoshone tribal gymnasium with a potluck afterwards.
The family requests in lieu of flowers that donations be made to Pioneer Home Health Care- Hospice, 363 Academy Avenue, Bishop, Ca 93514 (760)872-4663.  This important resource gave Ella's family the ability to care for her at home in her final days and pass with dignity.  There are no words to express how grateful they are for that time with her.
Ella's impact on, and love for the lives around her, will be felt for generations to come.