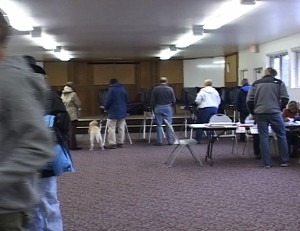 Nationally, voters' will wait to see who will make it as President of the United States. Closer to home, they will wait for the final vote on local leaders – boards of supervisors, city council, school and hospital boards.
In Inyo County, Mark Tillemans and incumbent Supervisor Marty Fortney are in a race for the Fourth District. Jim Gentry and Matt Kingsley vie for 5th District Supervisor. Voters have asked the candidates about how they will handle the Los Angeles Department of Water and Power, a loss of state money, and local revenues.
In the City of Bishop three seats are up for election – those held by incumbents Dave Stottlemyre, Susan Cullen and Laura Smith. They are running for re-election. Keith Glidewell and Pat Gardner are challenging them. City voters have focused on the business community and how to strengthen it.
School board elections also exist in Big Pine and Independence. In Big Pine, with three open seats, there are four candidates – Denelle Carrington, Robert Vance, Carla Bacoch and Sandra Lund. In Independence, three seats are also up for a vote. Candidates are April Zelak, Aldene Felton and Sandra Anderson.
In Mono County two candidates want the new District 4 Supervisor seat. The area includes part of Mammoth Lakes, Antelope Valley and Bridgeport. The candidates are Tim Fesko and Bob Peters.
There is a race for two seats on the Mammoth Unified School District board. The candidates are John Stavlo, Shana Stapp and Luis Villanueva.
Results are expected to come together late tonight at the Independence and Bridgeport courthouses. We will post results on our website.