By Deb Murphy
While insanity rules at the national level, local elections pale by comparison. Only one supervisorial seat in Inyo is contested, Mono's fourth district supervisor slot has three contenders and two seats on Mammoth Lakes town council are being pursued by three candidates. All other available seats are uncontested.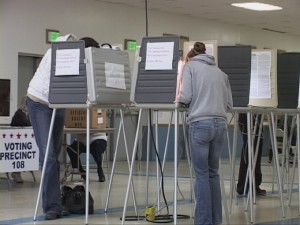 Both counties' sample ballots are decidedly top heavy with a host of candidates chasing Senator Barbara Boxer's Senate seat and candidates few have heard of going after the nation's top job. Thankfully, voters don't have to wade through the 39 candidates running for president as each voter's ballot will only reflect Presidential candidates in their declared party, assuming the voter has declared a party.
First, Mono County: Supervisor Fred Stump is unchallenged for District 2. Bob Gardner is the only name on the ballot going after Tim Alpers' vacated District 3 seat. District 4 is the one hot spot with incumbent Tim Fesko challenged by John Peters and Bob Tems. Jennifer Burrows, Cleland Hoff and Bill Sauser are pursuing seats on Mammoth's town council. Voters have their choice of two Democrats and two Republicans running for the State Assembly: Democrats Robert Carabas and Kai Ellsworth; Republican incumbent Frank Bigelow and Mark Belden.
For Inyo County, Mark Tillemans and Matt Kingsley, 4th and 5th District Supervisors respectively, are alone on the ballot. District 2's Jeff Griffiths will face off against Russ Aldridge. The two open seats on the Board of Education will see incumbents David Hefner and Mary Kemp back in office.  Republican incumbent Devon Mathis is facing Rudy Mendoza and Democrat Ruben Macareno for the 26th District State Assembly seat.
Both counties lie in the House of Representatives 8th District. Republican incumbent Paul Cook is being challenged by Tim Donnelly and Democrats John Pinkerton, Rita Ramirez and Roger La Plante.
Voters not registered with a party or registered Decline to State, Independent or Nonpartisan, will receive a ballot with U.S. Senate, U.S. Congressional and all state and local office candidates.
Voters with no party preference who want to vote for an American Independent Party, Democrat or Libertarian Presidential candidate can simply request that party at your polling place.
The Republican Party has interesting bed fellows in the Green Party and Peace & Freedom Party in that you must be registered to vote with one of those three to pick a Presidential candidate.
Voters have until May 23 to register or change their party.
Of the 34 candidates running for Barbara Boxer's Senate seat, California Attorney General Kamala Harris leads with 27 percent according to a blend of current polls in the Huffington Report. Harris is followed by Democratic Representative for the 46th District Loretta Sanchez at 19-percent. Two Republicans, Thomas Del Beccaro and Duf Sundheim trail with 8.7 and 6 percent respectively.
For Eastside voters tired of traditional Presidential politics, there's always the American Independent Party on the right or the Peace & Freedom Party on the left depending on which way you lean on the death penalty, class warfare taxes or any taxes for that matter, food labeling, capitalism, free health care, military bases, abortion, immigrants and the LGBTQ community.