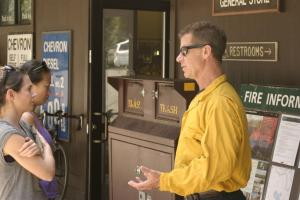 Update 8-5-14: Great news: The El Portal Fire is 100% contained and all roads are open in Yosemite National Park. Containment on the French fire is now 40%.


Update – 8-4-14:
Incident Overview
As of the morning of August 4, the El Portal Fire is 96 percent contained. California Interagency Incident Management Team 5 (a Type 1 team) is transferring command of the fire to a Type 3 team tomorrow, August 5, at 6:00 a.m.
Update:
Yosemite Fire Update 8/2/2014 – 8:00pm
El Portal Fire
FINAL EVENING REPORT
Fire Start: July 26, 2014, 5:00 P.M.
Location: Old El Portal and Foresta
Cause: under investigation
Size: 4,689 acres
Percent Contained: 89%
Total Number of Personnel: 1,056
Costs to Date: $9 million
Expected containment date: 08/09/2014
Incident Commander: Carlton Joseph/California Interagency Incident Management Team 5 (CIIMT5)
Fire Summary: Firefighting efforts on the El Portal Fire continue to go well. Crews are strengthening the containment line and aggressively cooling hot spots near the fire's perimeter.
After today's shift, most crews will report to a new camp at Drew Meadow, which is in close proximity to the fire area. The Incident Command Post that has been in place at Badger Pass will scale down significantly over the next two days, and by Tuesday morning all remaining resources will work out of Drew Meadow.
Smoke was visible from the Dark Hole Fire as it became more active today; it is now 737 acres, 61 percent contained, and staffed by 55 personnel. It remains within the allowable management area that was established by the National Park Service and continues to meet desired resource objectives.
Non-essential crews and equipment are being released to assist at other fires in the region.
Please note that this will be the last evening update from the El Portal Fire. Beginningtomorrow, only one morning update will be released each day.
Information Phones: El Portal Fire Call Center is open from 8:00 A.M. to 4:00 P.M.
(209) 372-0327, (209) 372-0328, and (209) 372-0329.
Smoke issues on the El Portal Fire:
Smoke sensitive individuals such as elders, children, pregnant women, and people with heart or lung disease are vulnerable to the adverse health effects of smoke. Please avoid prolonged or strenuous outdoor activity. You may consider leaving the area until smoke levels decline. Please consult your healthcare provider to discuss protective measures. For more information, visit one of the following websites:
For health effects of smoke: www.mariposacounty.org/index.aspx?NID=89
For Yosemite air quality: www.nps.gov/yose/naturescience/aqmonitoring.htm
For smoke updates: www.californiasmokeinfo.blogspot.com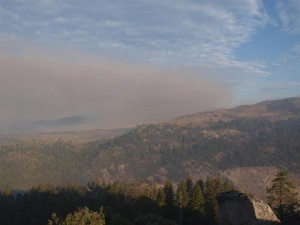 Yosemite Fire Update 8/1/2014 – 8:00pm
El Portal Fire
Fire Start: July 26, 2014, 5:00 P.M.Location: Old El Portal and ForestaCause: Under investigationSize: 4,518 acres

Percent Contained: 78%

Total Number of Personnel: 1,341

Costs to Date: $8 million

Expected containment date: August 9, 2014

Incident Commander: Carlton Joseph/California Interagency Incident Management Team 5 (CIIMT5)

Fire Summary: Today crews made excellent progress with burnout operations on the north end of the fire. Weather conditions were in their favor, and they completed a black line around the fire's edge. They are working to mop up and strengthen the line. A spot fire, approximately 100′ x 100′, was quickly contained in the northeast corner. Logs and other large fuels burning in the interior are producing visible smoke, but they pose no threat to the containment line.

Two helicopters were released from the El Portal Fire to assist at the neighboring French Fire this afternoon. Over the next few days many crews will be released from the El Portal suppression effort and potentially reassigned to other fires throughout the West.

The National Park Service escorted a convoy of residents into Foresta this afternoon; this was the first time in nearly a week that they were allowed to enter their homes.  Power was restored by the Pacific Gas and Electric Company at approximately 4:00 P.M. today.

Information Phones: El Portal Fire Call Center is open from 7:00 A.M. to 9:00 P.M. every day: (209) 372-0327, (209) 372-0328, and (209) 372-0329.

Smoke issues on the El Portal Fire:

Smoke sensitive individuals such as elders, children, pregnant women, and people with heart or lung disease are vulnerable to the adverse health effects of smoke.  Please avoid prolonged or strenuous outdoor activity. You may consider leaving the area until smoke levels decline.  Please consult your healthcare provider to discuss protective measures. For more information, visit one of the following websites:

For health effects of smoke: www.mariposacounty.org/index.aspx?NID=89

For Yosemite air quality: www.nps.gov/yose/naturescience/aqmonitoring.htm

For smoke updates: www.californiasmokeinfo.blogspot.com