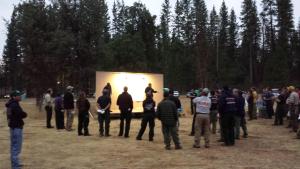 August 6, 2014, 8:00 A.M.
Fire Start: July 26, 2014, 5:00 P.M.
Location: Old El Portal and Foresta
Cause: Under investigation 
Size:4,689 acres
Percent Contained: 100%
Total Number of Personnel: 150
Costs to Date: $10.6 million
Containment date: 08/04/2014
Incident Commander: Dave Martin/Stanislaus National Forest Type 3 Incident Management Team 
All roads in Yosemite National Park are open.
Bridalveil Campground and the two top loops of the Crane Flat Campground are open to the public. Yosemite Creek Campground and the remainder of Crane Flat are closed.
Visitors are reminded that the fire area is closed to the public.
Fire Summary: The fire is 100% contained. Crews will continue to mop up, secure, and rehabilitate the El Portal fire line.
Demobilization will continue will continue through out the week, which will make fire equipment and crews available for other fires.
The Burned Area Emergency Rehabilitation (BAER) Team arrived today. The BAER Team's primary function is to evaluate the burn area for short-term emergency rehabilitation needs. Areas that were damaged in the suppression effort are being repaired to help reduce soil erosion and visual impacts. These efforts include building water-bars, chipping large concentrations of slash from dozer line construction, pulling berms, and obscuring turnouts that were created by large equipment. Excess equipment, supplies, flagging, and garbage are also being removed.
Smoke issues on the El Portal Fire:
Smoke will continue to be visible. Individuals that are smoke sensitive or have a tendency to respitory illnesses may be vulnerable to the adverse health effects of smoke. Please avoid prolonged or strenuous outdoor activity. You may consider leaving the area until smoke levels decline. Please consult your healthcare provider to discuss protective measures. For more information, visit one of the following websites:
For health effects of smoke: www.mariposacounty.org/index.aspx?NID=89
For Yosemite air quality: www.nps.gov/yose/naturescience/aqmonitoring.htm
For smoke updates: www.californiasmokeinfo.blogspot.com
Information Phones: Recorded information for the El Portal Fire is established; please call (209) 372-0327.
Basic Information
| | |
| --- | --- |
| Current as of | 8/5/2014 9:36:41 AM |
| Incident Type | Wildfire |
| Cause | Unknown |
| Date of Origin | Saturday July 26th, 2014 approx. 05:00 PM |
| Location | Communities of El Portal, Foresta in Yosemite Park, and Stanislaus National Forest |
| Incident Commander | Dave Martin(usfs) |
Current Situation
| | |
| --- | --- |
| Total Personnel | 220 |
| Size | 4,689 Acres |
| Percent of Perimeter Contained | 100% |
| Estimated Containment Date | Monday August 04th, 2014 approx. 10:00 PM |
| Fuels Involved | Chaparral (6 feet) brush, chaparral, grass, oak woodland at lower elevations. Timber (pine and cedar) at elevations above 4,500 feet. |
| Significant Events | No night operations due to the status of the fire and potential for thunderstorms early operational period. |
Outlook
| | |
| --- | --- |
| Planned Actions | Extinguish any hotspots observed and implement fireline suppression repair tactics according to establish guidelines. |
| Projected Incident Activity | Minimal interior burning only. |
| Remarks | Fire Suppression Repair operations have been implemented. Of the total current acreage, 3597 acres are U.S. Forest Service DPA and 1092 acres are National Parks Service DPA. A Stanislaus N.F. Type 3 organization will assume command this morning at 0600. |
Current Weather
| | |
| --- | --- |
| Weather Concerns | Chance of thunderstorms in the evening decreasing as night falls leading to good RH recovery and cool temperatures. |