Edna Mae Orsak Lynn- Wright
March 10, 1917 — September 1, 2016
Edna Mae Orsak Lynn-Wright was born March 10, 1917 on a farm in Moravia, a Czech farming community in Texas. She was named Edinka which was Czech for little Edna and was the second of five children, all of whom pre deceased her.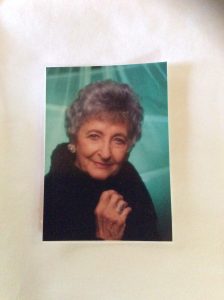 Edna graduated from high school in Bay City, Texas in 1935. In 1939, Edna began working for Prince's Drive-In, Houston's most famous combination restaurant and drive-in. It was here in August of 1941, that she met the love of her life, Leburn Robert Lynn, a flight instructor from Cunningham Flight School. They planned a quiet wedding for December 13, 1941. Sadly, on December 7 of that year, Pearl Harbor was attacked and their plans were postponed indefinitely.
Leburn (Bob) joined the Army Air Corps and was stationed in Oklahoma as a flight instructor. He then asked Edna to join him there as his wife and they were married on Friday evening, July 24, 1942. Their son, Roland Denton Lynn, was born on May 6, 1943. After several military moves and as the war was ending, they found themselves in San Dimas, California, where Bob found employment as a chemical engineer in the aerospace industry , the profession he stayed with for the rest of his life. On April 30, 1947, their daughter, Dianna, arrived. In 1957, Edna and her family moved to the Santa Cruz area, where she lived for 46 years.
Sadly and just after retiring, Bob passed away on July 28, 1970. Edna was lost and so turned even more strongly to her church and for the next 33 years, gave, taught and shared herself with the Santa Cruz Bible Church. At 53, she was a widow and lonely but her church helped strengthen her.
In August of 1976, Edna re-met a friend who had lost his wife. Consolation turned to friendship and then to love and on January 3, 1981, Edna married Kenneth Wright. They shared an adventurous life together, traveling and square-dancing through every state, including Alaska and Hawaii, and also enjoyed several trips to Europe. On April 1, 1993, Ken succumbed to cancer.
During the next several years, Edna worked on a huge project ……her book, "The Potter's Clay", an inspirational, religious documentation of her life, which she published in 2001. She always enjoyed sewing, gardening, knitting, doll making, furniture restoration and writing. She ranked as an expert in all of these areas of interest and produced works of art.
In 2002, Edna moved to Sparks, Nevada to a lovely gated community in order to be nearer to family and to an airport where friends and other family could fly into more easily. The death of her son, Roland, in May, 2005, proved very painful and in October of that year, a major stroke hit her hard. Her physical recovery was positive but global aphasia made communication terribly difficult. She then moved to an assisted living complex in Bishop, California, near Dianna, where she resided for nine and a half years until her passing on September 1, 2016.
She is survived by her daughter, Dianna and son-in-law, Timothy Sanford of Mammoth Lakes, California; daughter-in-law, Gail Lynn of Apache Junction, Arizona; two granddaughters, five grandsons, eighteen great grandchildren and one great great grandson.