Edison crews carried out a major maintenance job in Mammoth Lakes recently with power down for many hours overnight.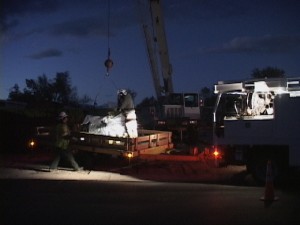 Another similarly planned outage in Bishop did not go so well.
Residents at the Highlands Mobile Home Park said that Edison informed them that power would go down on Tuesday morning and come back up in the evening. This plan, reports said, was for scheduled maintenance.
When power did not come back up for all residents, calls went in to the Inyo Sheriff for welfare checks, particularly for elderly residents. Sheriff's units did start to patrol, not knowing how late the power would be off. The evening temperatures had dropped down to cold. Some elderly were huddled under blankets waiting for the power to come back on.
In fact, Inyo Sheriff Bill Lutze said that the county was preparing to open an emergency center to help the elderly mobile home park residents stay warm. Reports indicated power did come back around 8 in the evening, having been off for a number of hours.
Dan Brady of Edison said that the scheduled work ran longer than anticipated. He said crews are basically installing all new infrastructure at the Highlands which has dealt with many power problems in the past. Brady said 80 to 100 customers were out of power longer than anticipated.
Brady added that power was out Wednesday as well at Highlands. He said that the planned outage went longer than anticipated because of an oil spill. Brady said he did talk with Sheriff Lutze about the situation and to Edison's district manager. Brady said the Sheriff talked about dispatching a patrol unit to Highlands. Brady said some people chose to leave until the power returned.
Brady was not sure why these prolonged power outages were planned for November when heat is needed. "We'll make sure we do better next time," said Brady who added that the Highlands electrical system will have a much greater reliability once all the work is done.