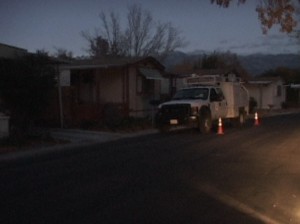 More Edison power outages in and around Highlands Mobile Home Park this week. Residents told Sierra Wave they have received notices a bout a power outage Tuesday from 8am until 4pm. Other residents said they received cards about an outage from 6am to 6pm on Wednesday.
While residents may not like 8 to 12 hour outages, most have said they can live with it if power goes back on as promised. Last week that did not happen and dozens of residents remained in the dark and cold until 11pm last Wednesday.
Edison's man in the Eastern Sierra, Public Information Officer Dan Brady, offered an apology for last week but underscored that a new electrical system will result from Edison's work in Highlands.
Brady also said that crews will also do some overhead line replacement across Highway 395 on Wednesday. The highway between Barlow and See Vee Lane will close intermittently between 7am and 1pm Wednesday. Brady said this new line will function as a back-up power system for Highlands.