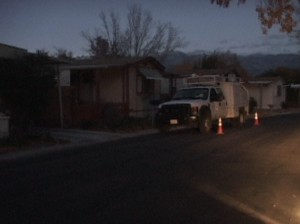 With more power outages to go in the Edison re-do of the power system in and around Highlands Mobile Home Park in Bishop, residents said they are bracing for more cold nights without electricity. However, local Edison spokesman Dan Brady said that shouldn't happen, barring unforeseen circumstances.
It's the unforeseen that has residents worried. Last week, Edison crews shut power off to replace transformers and other electricity equipment and failed to get power back on by 6pm. Last Wednesday night, folks remained in the dark and cold until around 11pm or later.
Turns out about 100 other customers outside the Highlands Park are affected by the outages too. Tomorrow's planned outage, according to Edison, will start around 8am and last until 4pm. Without alternate heating, some of those hours may turn fairly cold.
Other residents expressed concern about food spoilage. Edison Public Information man, Dan Brady, who headquarters in Mammoth, offered an apology from the utility.
Brady said that crews would review Tuesday's planned outage today and have contract clean-up crews on sight for any eventuality. Last week, a Hazmat spill delayed restoration of power. Brady continues to point out that when all the bother is over, Highlands and surrounding homes will have what amounts to an entirely new electrical system.
Brady said the experience has added up to lessons learned in terms of customer service. The inconveniences are not over. Edison crews will also do some overhead conductor replacement across Highway 395 which will close intermittent closures of about 3o minutes several times on Wednesday between 7am and 1pm. Brady said this new line will amount to a back-up power system for Highlands.
One resident said of Edison, "They are people sitting at a desk far away. They have no concept of what our lives are like here."