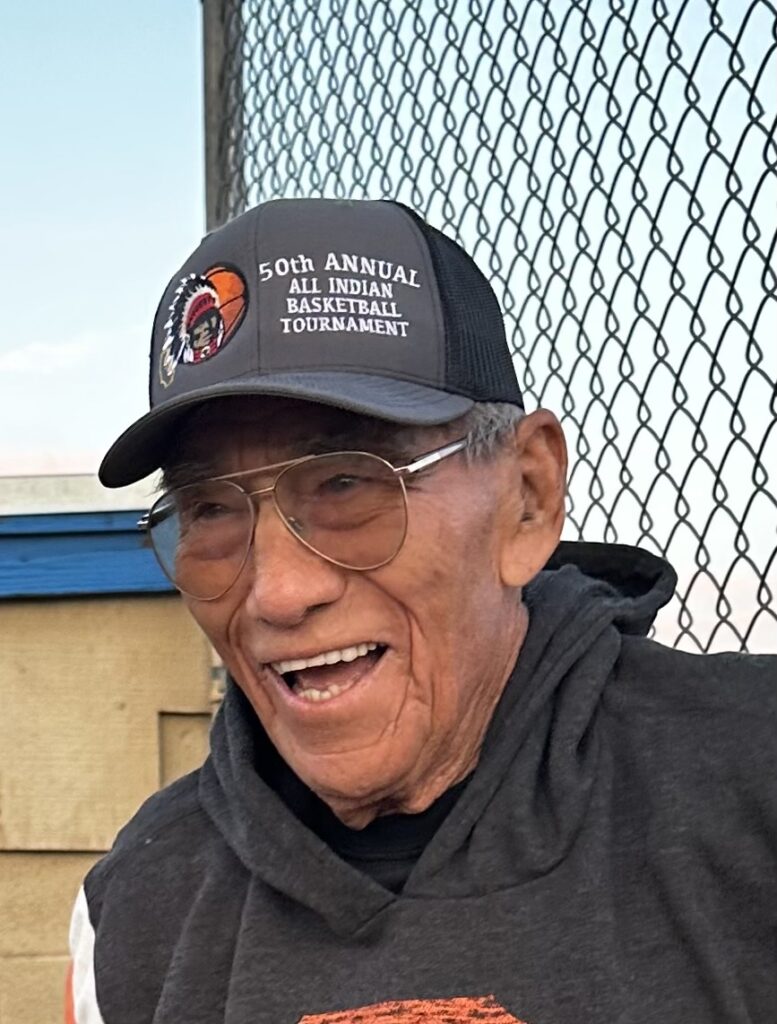 Ed Summers was born July 16, 1934, in Lee Vining CA to Albert and Bessie Summers. He was
the 3rd child of 6 children. Between 1940 and 1941 Ed and his family moved to the Bishop
Reservation, living on See Vee ln.
Ed graduated from Bishop Union High School and although he had the opportunity to attend
Haskell Indian College, he chose to enlist in the Army. Ed was stationed at Fort Ord, in
Monterey, CA, where he was an MP and transported individuals throughout the U.S.
Ed married his High School sweetheart and love of his life on December 26, 1954, in Tonapah,
NV. After completing his 2 years in the Army he returned home to Jeannette in Bishop. Ed and
Jeannette welcomed their only child Lisa Faye in 1959.
Ed was a true athlete; anything that had to do with sports, Ed was involved. He played in
baseball leagues, played in city leagues for basketball and fastpitch softball. Ed played for
Union Carbide as a second baseman. This is where he made lifetime friend Mitch Vasser.
Ed was a founding member of the BIAA, Bishop Indian Athletic Association. The group started
with a men's basketball tournament, which continues to this day. This annual tournament has
continued and been held for over 50 years. This tournament now also includes a women's
tournament. The tournament proceeds would go to a boxing club, rodeos, and a summer
swimming program for the youth. Ed loved getting kids involved in sports.
Ed coached Middle League Baseball (Now Juniors) even though he did not have a son.
Coaching is where his love of youth sports really started. It is also where he first took Butch
Cross under his wing. Their bond grew and Butch became family. However, not to overlook his
daughter, Ed was also one of the first basketball and softball coaches for the Bishop High school girls' programs when they started in 1976/77.
Anything having to do with sports and his family he was there. Along with being a player and
coach, Ed had his hand in building all the ballfields at the City Park. Still, the closest to his heart was building the ballfield on the Bishop reservation "The Barlow Field".
Ed did have many facets other than athletics. One of his favorites would include his green
thumb. He loved working in his garden. Ed took great pride in his sizable garden but one of his
greatest joys was to go around and share his bounty with everyone.
Ed took on a very active role in his great-grandchildren's lives, affectionately called gramps. He
could be seen at every game in town and if he could make it, the out-of-town games as well.
Days before his passing he was at baseball games and softball practices for his great grandchildren, who he called his partners and his buddies.
Ed was also a recognizable face in the stands for High School games; football, basketball,
baseball (if it wasn't during a softball game), and of course softball. He could be seen and
definitely heard telling anyone, exactly how the team could win the game.
Ed was proceeded in death by parents: Albert and Bessie Summers; brother, Robert Summers;
sisters, Catherine Barlow, Carol Turner, and Patricia Stone.
Ed is survived by his wife Jeannette Summers of 68 years; daughter and son-in law Lisa and
Mark Manuelito; Sister, Frances Romero; granddaughters Nikki Manuelito and Jessica
Manuelito with partner Brad Weaver; great grandchildren Faye and Max Spoonhunter, Marcus
Manuelito, Takoda and Tyler Weaver.
Ed lived his life to the fullest. Although Ed has left a big gap in our community and will be truly
missed, his legacy will be carried on forever in his family and loved ones.