Will the hard economic times take a toll on Mule Days? Maybe, but not for lack of promotion. Early estimates predict a less-attended Mule Days this year, but newspapers and magazines have found Mule Days news worthy.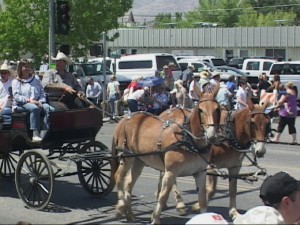 Bishop Chamber Director Tawni Thomson pointed to the Las Vegas Review-Journal newspaper and an article in the travel section about Bishop. The article dominated the whole section with pictures, business listings, a description of Mule Days and directions to get from Vegas to Bishop.
Thomson pointed out that the newspaper space Bishop captured would be worth something like $11,500. Other media support of late – Sunset Magazine, the LA Times, and National Geographic Adventure.
Westways Magazine also featured Mule Days in its 5 Worth the Drive feature. Their article described the 40th annual event with a listing of the parade, mule shows and the performance of four-time Grammy nominee Joe Nichols.
Grand Marshall for the big 40th parade is Buck Taylor, famous western actor of movies and TV since the 60s. He played Newly on Gunsmoke and appeared on Bonanza and many other shows. His movie credits include Tombstone. Taylor's fame spread with his western water colors that depict many old west scenes including the characters he worked with on Gunsmoke.
The parade – Saturday at 10:00 am on Main St., Bishop.