Inyo County citizens have lately asked about elected officials and potential conflicts with the LADWP or other interests.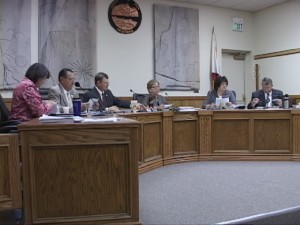 Disclosure statements for the Inyo Supervisors reveal that Supervisor Marty Fortney does have a DWP lease for his Aberdeen resort.
Although some, including our news organization, were under the impression that Supervisor Bev Brown was involved in DWP leases held by the Brown family, her disclosure statement does not declare DWP leases.
Brown herself told us that before her election she divested herself of the percentage she and her husband held of the family corporation, which does involve DWP leases at Keough's Hot Springs, Browns Supply and the dump scrap yard.
Supervisor Brown said that she gave her share of the family stock to her two sons. Does she feel beholden to DWP? Supervisor Brown said, "I don't feel like I need to be really nice to DWP for fear of my husband's job." Supervisor Brown's husband is an employee at Brown's Supply.
When asked how various holdings might impact the supervisors' votes, County Counsel Randy Keller said there is a statute for conflicts of interest. He said he would consider such votes on a case by case basis. Keller said holding leases or other financial interests are not inherent conflicts, but, he said, it depends on the scenario.
As for the other board members, Supervisor Linda Arcularius declared ownership of common stock in Southern California Edison, an interest in the Arcularius livestock production company, real property, and a Forest Service grazing permit.
Supervisors Richard Cervantes and Susan Cash did not list any economic disclosures.