Press release
Mammoth Lakes, Calif. – Mammoth Lakes Foundation's premier fundraiser, Mammoth Food & Wine Experience, sponsored by Honda, returns for its seventh year with some exciting new features, July 12-15.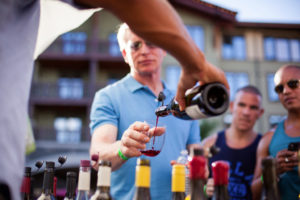 New this year, Saturday's Grand Tasting on July 15 takes place at Sierra Nevada Resort & Spa and includes wine tastings from more than 25 wineries, craft beer from local breweries, tasty bites from local Mammoth Lakes chefs, delightful dessert offerings from local establishments, live musical entertainment by Ryan Heller, a silent auction, a raffle, and an-always-entertaining live auction with exclusive Honda experiences only available to Grand Tasting attendees. Tickets for the Saturday, July 15, Grand Tasting are $125 and can be purchased atwww.MammothFoodAndWine.org.
"This event is our premier fundraiser and proceeds help us execute our mission in supporting higher education and cultural enrichment in the Eastern Sierra," said MLF Executive Director, Kevin Lian. "During Saturday's Grand Tasting, we will also be honoring Mammoth Lakes Foundation's 'Founder of the Year' and our 'Volunteer of the Year.'"
During Saturday's Grand Tasting, local Mammoth chefs team up with food vendors to present delicious food bites for attendees to enjoy. The food teams are: Chef Fred Pierrel of Mammoth Rock Brasserie with Santa Monica Seafood; Chef Jeremy Graham of Jimmy's Taverna with Sierra Meat; Chef Taka of Ramenya presents Japanese noodles; Chef John Kovatch of Mammoth Catering & Events with Farique Delices; Chef Rich Leonin of The Red Lantern presents char su pork Bahn mi on a steamed lotus bun; and Chef Conrad Mormann of Petra's Wine Bar & Bistro presents treats from Joe Suppa Tomatoes.
In addition, Grand Tasting attendees can enjoy local craft beer from June Lake Brewing, Mountain Rambler, and Snowblind Distributors, cheese and bread offerings from Cowgirl Creamery and Great Basin Bakery, respectively, and dessert from Stellar Brew and Mountain Cakery.
Friday's Wine Walk takes place at the Village at Mammoth and features wine tastings from more than 16 wineries, palate cleansers, and a commemorative wine glass for attendees to take home, and entertainment provided by the band The Battlefield. Tickets for the Friday, July 14, Wine Walk are $50.
Wineries include Tatomer, Mastro Scheidt Family Cellars, Mineral Wines, Rombauer Vineyards, Eberle Winery, Peachy Canyon Winery, Collins Vintage Wines, LLC (pouring Barnard Griffin, Champagne Jacquart, and Trentadue Winery), Zaca Mesa Winery Vineyards, Deovlet Wines, Old World Wines, and Happy Hour Wines, J. Lohr Vineyard, Jaffurs Wine Cellars, Pedroncelli, Peake Ranch Winery, Silver Oak/Twomey, Bianchi, Sextant, Trefethen, Stellareese Wines, Raymond Wines, Shadow Ranch, and Grgich Hills Estate.
For a more intimate and educational setting, check out the seven seminars available to choose from, at just $35 per person per seminar. Each seminar includes tastings from four different wines and is limited to 30 people (walk-in sales are not guaranteed).
Wednesday, July 12 @ 4pm: Winemaker and owner Brett Keller of Mineral Wines from Calaveras County invites attendees to taste and learn about his 2016 Viognier, 2016 Vino del Oro, 2014 Cabernet Franc, 2014 Tempranillo, 2015 Petite Sirah. Presented with Chef Frederic Pierrel's Amuse-bouche at Mammoth Rock Brasserie.
Thursday, July 13 @ 1pm: Meet Silver Oak's sister winery, Twomey. Quelene Slattery from Silver Oak & Twomey will taste us on Twomey Sauvignon Blanc, Pinot Noir, a true Bordeaux style Merlot … and of course the iconic Silver Oak Alexander Valley Cabernet. Presented with Chef Frederic Pierrel's Amuse-bouche at Mammoth Rock Brasserie.
Thursday, July 13 @ 3pm: A tasting to illuminate the impact of glassware on the aromas and flavors of wine with Riedel Glassware. Enjoy a tasting of four of the wines from the award winning Joseph Phelps Winery paired with the most influential and important glassware company in the world, Riedel. Hosted and led by Riedel ambassador Gordon Stange, artisanal finger food will be provided, and as a gift, each guest will take home the four glasses from the tasting, with the opportunity to purchase additional Riedel glassware and Joseph Phelps wine afterward. Located at Jimmy's Taverna.
Friday, July 14 @ 11am: Chris Collins invites attendees to taste and discover the highlights of Champagne Jacquart. It's all about the Champagne! Presented with Chef Frederic Pierrel's Amuse-bouche at Mammoth Rock Brasserie.
Friday, July 14 @ 1pm: Winemaker Robert Henson and Craig Miller invite attendees to meet Peachy Canyon (Paso Robles) and learn directly from the winemaker. Presented with Chef Frederic Pierrel's Amuse-bouche at Mammoth Rock Brasserie.
Saturday, July 15 @ 11am: Brian Cokas of Free Run Juice presents Sextant Winery (Paso Robles). Join Brian as he discusses the winery and Paso AVA's. Presented with Chef Frederic Pierrel's Amuse-bouche at Mammoth Rock Brasserie.
Saturday, July 15 @ 1pm: Chad Hause of Grgich Hills (Rutherford) presents wines from the iconic Napa Valley winery, consistently producing world-class wines.  Taste their 2014 Napa Valley Fume Blanc, 2013 Chardonnay, 2012 Zinfandel, and 2013 Cabernet Sauvignon. Presented with Chef Frederic Pierrel's Amuse-bouche at Mammoth Rock Brasserie.
For more information or to purchase tickets, visit www.MammothFoodAndWine.org.
The Mammoth Lakes Foundation offers free education (books and tuition) to any Mono County resident and/or high school graduate who pursues an AA degree at Cerro Coso Community College and provides year-round theatre programming at Edison Theatre. For more information or to make a tax-deductible donation, please contact the Foundation at (760) 934-3781 or visitMammothLakesFoundation.org. Our nonprofit work is only possible through your generosity.