Elevation Mammoth 2011
9th annual Mammoth Gay Ski Week!
March 16th – 20th
Mammoth Mountain Ski Area
For more information visit:
www.mammothgayski.com
---
FREE
Saint Patrick's Day Concert
Mammoth Lakes Library
String Theory featuring Gillian McChesney
Thursday March 17th
6:00 to 7:30pm
Call (760) 934-4777 for more information
Thanks to the Mammoth Lakes Friends of the Library and a generous grant from the Holmes Foundation, the event will be free to honorary Celts of all ages.
String Theory-Greg Smith, mandolin and guitar, Dan Connor, vocals, guitar and bass and Charlie Broten, fiddle and guitar- are honored to feature Gillian McChesney, whose pure voice will transport you back to the Isle of Green. Gillian, from County Down and Greg from Manchester, England will make peace long enough to play some beautiful ballads and rousing reels and jigs along with some of String Theory's original tunes.
See you at the Mammoth Lakes Library on Sierra Park Road just South of the High School.
---
Adult Softball 2011 Registration Meeting
Thursday, March 17th
6:30pm
Bishop City Hall Council Chambers
Team registration fee $400 if paid by April 15th or $500 thereafter.
For more information call Keith or Karey on
(760) 873-5863
---
Red Eagle Kenpo Karate Kai School
presents: Martial Arts Seminar
with Grandmaster Ted Tabura
Register by: Friday, March 18th
Seminar dates:
Friday & Saturday, March 25th & 26th
Call: (760) 937-3391
Born and raised in Hawaii, Shihan Tabura began his martial arts training under his cousin's tutelage in a backyard dojo. Later moving to Southern California, Ted discovered the Okinawa-te dojo headed by another Hawaii-born instructor, Shihan Gordon Diversola. While training at the Okinawa-te dojo, Tabura met John Louis (now deceased) who became his final instructor in Okinawa-te, then Lima Lama. Sensei Louis ranked Tabura as a Black Belt in 1968,
Today, Shihan Tabura co-produces tournaments in Primm, Nevada and directs the annual Festival of the Kings Karate Championship in Maui, Hawaii. Shihan Tabura has been with the Primm, Nevada tournaments for the past 18 years. This tournament draws competitors from all the neighboring regions including Mexico.
---
Mammoth Lakes Foundation presents:
Fiddlin' Pete
Friday, March 18th
6:30pm
Edison Theatre
Mammoth Lakes
For more information and tickets reservations:
Call: (760) 934-3781
"Fiddlin' Pete is a violinist version of western-music legend Don Edwards. Along with excellent music and singing, Watercott provided fascinating stories about these western songs' orgins." Mark Bedor of Western Horseman, May 2006.
More about Fiddlin Pete at www.fiddlinpete.com.
---
Sage to Summit Winter Race Series
Tungsten Peak 10K
Saturday, March 19th
Millpond Recreation Area
Race start: 8:30am
Entry Fee: $15
For more information call:
(760) 872-1756
www.sagetosummit.com
The Tungsten Peak 11k is a challenging mountain course with awesome views, not a personal best time course! After a 2 mile dirt road warm-up be prepared for 1.1 miles of steep single-track, sometimes very rocky (you will most likely be walking some or most of this section) followed by a short (.25 mile) cross country section on a fairly steep sandy sagebrush slope before reconnecting with dirt roads back to the finish. Plan to be running/hiking for at least 20-30 minutes longer than your typical 10k. There will be one self serve aid station at approximately halfway. Please carry water during the run!
---
Mammoth Concert Series presents
Hyper Crush'
Saturday, March 19th
Canyon Lodge
9pm – 2am
Tickets: General Admission $10 (in advance with valid college ID)
$15 (in advance)
$20 (at the door)
Age: 18+ only
For more information log on to:
www.mammothmountain.com
Put your hands up and dance your face off – the party's coming to Mammoth with Hyper Crush's latest mix of electro, pop and hip hop beats on March 19! Donny and Holly will rock the vocals while Preston breaks out the keytar and turntables. These three mad geniuses are set on ruling the world with their poppy hits "Ayo" and "Keep Up" but before they do – watch them live in Mammoth at Canyon Lodge.
---
2nd Annual College Games
presented by: Mammoth Mountain & Fuel TV
Friday – Sunday, March 18th – 20th
McCoy Station
Win…
Unrestricted 2011/12 Mammoth Season Pass
For more information log on to:
www.mammothmountain.com
20 teams of 5 will have the opportunity to compete for an unrestricted 2011/12 Mammoth Season Pass (1 for each person on the team). The school name of the winning team will be engraved on the Mammoth/Fuel TV trophy. All 5 on a team must be from the same school, must have no less than 2 girls per team and must have a day ticket or seasons pass to participate. (The restricted college pass is normally blocked out on Saturdays but will be valid for Saturday, March 19). Swim suits/board shorts recommended.
Most creative bikini will be judged by 2 celebrity pro snowboarders, winner gets an unrestricted 2011/12 Mammoth Seasons Pass.
Most creative carry case or way of carrying your ID and/or season pass while in swim suit will be judged and a special prize will be awarded. This is going to be a good prize – details to be announced!
---
Playhouse 395
Once Upon a Mattress
Opening Night
Friday, March 11th
7pm
Bishop High School Auditorium
Ticket Prices: $8 to $20
For more information and to purchase online
Log on to: www.playhouse395.com
Once Upon a Matress
Music by: Mary Rodgers
Lyrics by: Marshall Barer
Book by: Jay Thompson, Dean Fuller and Marshall Barer
If you thought you knew the story of "The Princess and the Pea," you may be in for a walloping surprise! Did you know, for instance, that Princess Winnifred actually swam the moat to reach Prince Dauntless the Drab? Or that Lady Larken's love for Sir Harry provided a rather compelling reason that she reaches the bridal altar post haste? Or that, in fact, it wasn't the pea at all that caused the princess a sleepless night? Carried on a wave of wonderful songs, by turns hilarious and raucous, romantic and melodic, this rollicking spin on the familiar classic of royal courtship and comeuppance provides for some side-splitting shenanigans. Chances are you'll never look at fairy tales quite the same way again.
---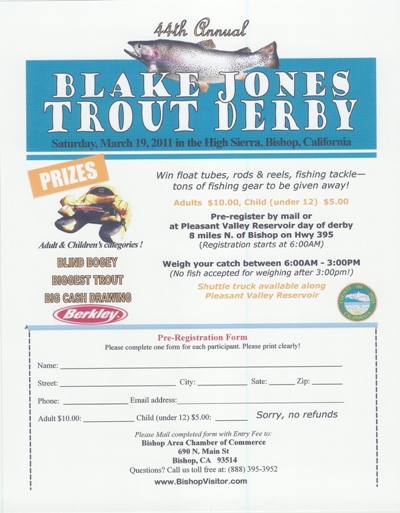 Blake Jones Trout Derby
Saturday, March 19th
Pleasant Valley Reservoir
$10,000 Cash & Prizes!
Register to Win
$10 for adults
$5 for kids 12 & under
Visit: Bishop Chamber of Commerce
Logon to: www.bishopvisitor.com
Call: 760-873-8405
Since 1968, the Blake Jones Trout Derby has been a favorite event in the Eastern Sierra. Nearly $10,000 worth of cash and prizes will be awarded including float tubes, rods & reels, gift certificates and more. The derby is a blind bogey format with categories for adults and kids of all ages.
New this year, we'll be raffling a 2011 Dave Scadden Skykomish Sunrise ST Pontoon Package. It's an amazing prize worth $2,000 made possible by the generous sponsorship of Erick Schat's Bakkery. Tickets are just $5 each or $20 for five. Tickets are available now at the Bishop Chamber and the winner will be announced at the derby.