Dial M for Murder
by Mammoth Lakes Repertory Theatre
Thursday March 31st – Sunday April 17th
7pm (Thurs – Sat)
4pm (Sunday Matinee)
Edison Theatre
Mammoth Lakes
Tickets:
$20 (General admission)
$18 (Seniors & Students)
For more information:
Call:(760) 934-3781
Email: [email protected]
Visit: www.mammothlakesfoundation.org
"An ex-tennis pro carries out a plot to murder his wife. When things go wrong, he improvises a brilliant plan B." IMDB.com. Staring Mammoth Lakes Repertory Theatre's Grant Bentley, Jessica Blum, Ted Carleton, Mike Dostrow and Clay Tyson. Written by Frederick Knott.
---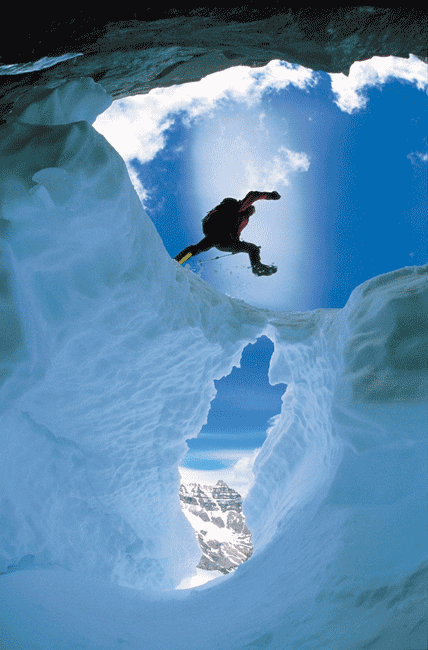 Banff Mountain Film Festival
Friday & Saturday, April 1st & 2nd
7pm
Charles Brown Auditorium
Tri County Fairgrounds
Bishop
Tickets: $10 per person per night
Purchase tickets at:
Wilson's Eastside Sports in Bishop
Inyo Council for the Arts in Bishop
Access Art and Business Center in Mammoth Lakes
or call Wilson's Eastside Sports on:
(760) 873-7520
Join Wilson's Eastside Sports when the Banff Mountain Film Festival World Tour brings the spirit of outdoor adventure to the Eastern Sierra, at the Charles Brown Auditorium of the Tri-County Fairgrounds in Bishop.
Different films are shown on the two nights, with both nights featuring a mixture of athletic adventures, humor, mountain culture, and incredible mountain scenery.
The Banff Mountain Film Festival, a program of The Banff Centre, is the largest, and one of the most prestigious mountain festivals in the world. Hot on the heels of the festival held every fall in Banff, Alberta, the Banff Mountain Film Festival World Tour hits the road.
With stops planned in about 350 communities and 32 countries across the globe, this year's tour features a collection of the most inspiring action, environmental, and adventure films from the festival.
Traveling to exotic landscapes and remote cultures, and bringing audiences up-close and personal with adrenaline-packed action sports, the 2010/2011 World Tour is an exhilarating and provocative exploration of the mountain world.
From approximately 260 films entered into the annual festival, award-winning films and audience favorites are among the films chosen to travel the globe.
For additonal information and list of films, visit www.eastsidesports.com or (760) 873-7520.
---
DANCERS
"An evening of real dance, theater & entertainment"
Starring dancers from Dennis Wayne Dance Studio
with special performance by Andrew Hallenbeck performing his audition solo for Julliard.
Conceived, Choreographed & Directed by
Dennis Wayne
Saturday, April 2nd
11:30am and 4:30pm
Sunday, April 3rd
2:30pm
Bishop High School Auditorium
Tickets:
$10 Adults
$5 Children
For more information and reservations
Call: (561) 667-0934
---
Inyo County Sheriff's Posse
Search & Rescue Team
Annual GearHeads Sale
Donate used gear & sporting goods
now through May 1st
Drop off locations:
Ben Franklin in Bishop
Elevation in Lone Pine
during store business hours
All proceeds from the sale of goods at the Choo Choo Swap Meet on Saturday, May 7th benefit the all-volunteer team of Inyo County Search and Rescue. Funds are used to purchase and maintain gear and training of volunteers.
For more information or to schedule a pick up call:(727) 452-3935 or visit: www.InyoSAR.org.
---
Mammoth Marathon
at Tamarack
Schedule: Sunday, April 3rd
7:00am-8:15am: Event Registration
9:00am: Race Start
Race Fees:
Adults: $65 (ages 20 & up)
Juniors: $20 (ages 6-19)
Kids: $5 (ages 6-10)
For more information call:
Tamarack X Country Ski Center
(760) 934-2442 (x 8)
Race Fee for Adults & Juniors include a daily trail pass for the Tamarack Cross Country Ski Center, t-shirt and access to the banquet.
Awards ceremony at Mammoth High School immediately following event.
Full Marathon (42km): Senior, Master 1-5
Half Marathon (21km): Senior, Master 1-5, Junior
Junior (10km): Junior 1-3
Kids Race (2km): Kids 6-10 years old
Download Registration form here
Download Course information for Full and Half Marathon here
Download Course information for Jr 10km here
The Mammoth Marathon combines mind, body and soul into a scenic and challenging race at Tamarack Cross Country Ski Center.
---
Tip-A-Cop Fundraiser
for Disabled Sports Eastern Sierra
Wednesday, April 6th
Angel's Restaurant
5pm to closing
In support of Disabled Sports Eastern Sierra, the Mammoth Lakes Police Department, Mammoth Lakes Peace Officers Association, and Angel's Restaurant invite you to join
them for a Tip-A-Cop fundraiser on Wednesday, April 6, 2011 from 5:00 p.m. until closing.
Mammoth Lakes Police Department's officers will be "protecting and serving" you as waiters while you enjoy dinner from Angel's fantastic menu. All tips the
officers receive will be donated directly to Disabled Sports Eastern Sierra. Angel's has also generously agreed to donate 10 percent of the evening's revenues to the
cause as well.
Join the fun at Angel's, 3516 Main Street in Mammoth, and in return for a big tip, we'll try not to spill anything on you. A Mammoth Lakes Police Department patrol car will also be parked for public viewing.
If you cannot attend on April 6, donations can be made through the Mammoth Lakes Peace Officers Association (MLPOA) at P.O. Box 9408, Mammoth Lakes CA 93546, or
dropped off at the police station, 568 Old Mammoth Road.
---
Mill Creek Station presents
String Theory
Friday, April 8th
7pm
Donations at the door gratefully accepted.
For more information call:
(760) 872-1779
Concert to benefit the Bardini Foundation
The Bardini Foundation was established on July 5th, 1997, in memory of nationally known mountain guide Allan Bard. In Allan's memory, the Foundation strives to provide the common man with John Muir's inspiration to: "Climb the mountains and get their good tidings".
For more about the Bardini Foundation visit: www.bardini.org
Mill Creek Station is located about 9 miles No of Bishop, east of US 395 on Mill Creek Road.
---
Inyo Council for the Arts presents
Annual Student Art Show
March 14th through April 22nd
Monday-Friday: 10am – 5pm
ICA Gallery & Theater
137 South Main Street
Bishop, California 93514
For more information:
Call: (760) 873-8014
Visit: www.inyo.org
School teachers from throughout Inyo County have selected artwork from their students to display at this very special ICA gallery show. Be sure to stop in, we promise that you will be amazed by the talents of our local youth! Students ranging from Kindergarten through 12th grade will display paintings, photos, ceramics and more.
---
Mono Council for the Arts Exhibition
Spring!
An art exhibit depicting the joys of spring.
March 23rd through June 20th
Mono Council for the Arts Gallery
Mammoth Luxury Outlets Mall
Hours: Wednesday – Monday, 12:00 – 5:00 pm
For more information:
Call: (760) 937-1810
Email: [email protected]