A Waste of time was basically Councilman John Eastman's evaluation of what some call the "Moving Mammoth Forward" process.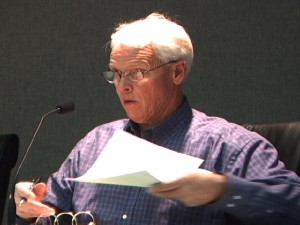 This item was initiated by Councilwoman Jo Bacon and Mayor Wendy Sugimura. They have said that the document is meant to help the public understand what the town delivers and how the budget works. At the March 4 meeting, Council was asked to confirm the core services, budget principles and strategies, and review of the budget components. Councilmember John Eastman spoke up and stated that he could no longer support this process, not only because it is expected to take 18 months to complete, but also because he no longer felt it would help the community understand the budget any better.
"I just don't see its value," Eastman said.
Mayor Sugimura asked what had changed since they began the process, and Eastman stated he had just thought about it more and realized that the Town is only dealing with an $18 million budget.
"A budget of this size is easy to deal with," Eastman said. He added that a process of this length would just eat up staff's time when he would rather they were working on other things.
When Councilwoman Bacon tried to explain that mature organizations have these types of structures in place in order to be more transparent to the public, Eastman responded, "If I hear the word transparent one more time, I am going to throw up."
Council voted 4-1, Eastman opposing, to confirm the process so far and to continue moving forward with it.