At the Tuesday press conference Mammoth Police Chief Randy Scheinle set out to put the recent controversies behind him and rebuild confidence in the Mammoth Police Department. Most in the audience came to support the chief and the department, but at least one town council member was not convinced.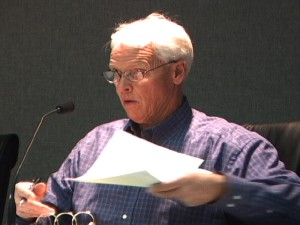 John Eastman offered a more sobering view of the situation following the press conference called by Chief Schienle. Councilman Eastman issued a written statement of his own.
With the press conference packed with Schienle supporters, Eastman writes, if the Chief was looking for a feel good, public relations event, then he hit a home run. If the public was looking for factual answers about recent events involving the department, then those answers, for the most part, were not provided.
Chief Schienle spoke on the four investigations into his department in the past two years. He explained that he had been cleared of the accusation that he had destroyed the personnel files of then Mammoth Wildlife Officer Steve Searles and had also been cleared of the accusation that he had an affair with a local resident while on duty. Schienle said that he had also been cleared in the investigation of a cover-up of fights that involved Mammoth Police Officers in Las Vegas.
The fourth investigation is currently underway after the two MLPD officers who were involved in the Vegas incident were also involved in a bar fight in Bishop. That investigation is ongoing, so Schienle was unable to comment on specifics, but he did say that the he turned the internal investigation of the Rustys incident over to the DAs office to alleviate any concern on the part of the public that we are trying to whitewash this investigation.
The Mono Grand Jury has not yet released results of their investigation and so far the Inyo District Attorneys office has not wrapped up their investigation into the Rustys incident. With these loose ends still dangling, Eastman says, Personally, I and many others are truly embarrassed by what we are hearing about the recent allegations of officers fighting, and I am looking forward to a full accounting of both the Las Vegas and the Bishop incidents.
The goal of the press conference may have been to put a lid on the controversies, but at least for now, it appears that this situation continues to simmer.