Press release
The Eastern Sierra Community Chorus will present an evening of song featuring the best of Broadway and screen.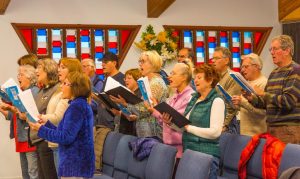 The concert will be held in Mammoth Lakes on Saturday, April 30 at 7:30 PM at St. Joseph's Catholic Church, and will be repeated in Bishop on Sunday, May 1 at 7:30 PM at the First Methodist Church on Fowler Street.
Admission is free, donations are appreciated.
The program includes songs from West Side Story, Les Miserables, musicals by Andrew Lloyd Webber and Stephen Sondheim, and a piece in the Elvish tongue by ENYA.
It will be a most enjoyable evening. Please come hear us sing.
For more information contact 760-873-5941