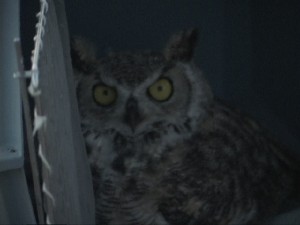 Another Eastern Sierra bird made it through tough times to be released back into the wilds, thanks to Eastern Sierra Wildlife Care center people.
Hoppy the Owl came to the center back in June. Volunteers said he had a deformed right leg and was very young at the time. He may have suffered an accident which caused the deformity.
The volunteers took him through a six month growth period in which he learned to fly, kill and eat prey and develop a style of perching that accommodated his deformed leg.
The happy ending? The center released Hoppy back into the out of doors last Friday during mild conditions when he was fully fed.