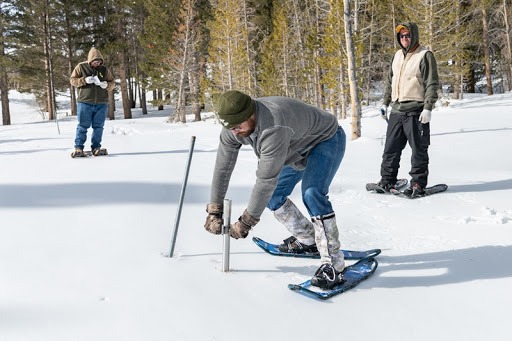 Eastern Sierra "rain season" Tops Out at 68.9-inches, a New Record
The East Side's rain season officially ended April 1. With any luck, the rain gods will adhere to
that date and skulk away until autumn. What the season left was a new record of 68.9-inches of
water content, soaring past the wettest year, 2016-17, that left a measly measurement just
over 50 inches.
At a hair under 70 inches, we have survived a rainfall three times higher than normal. Maybe
the area's normal could qualify for a desert, but nearly 70 inches is a whole lot of wet no matter
where it falls. While skiers may be celebrating Mammoth's massive snow dump and loading up
on super sun screen for a summer on the slopes, the weather has wreaked havoc on those who
live there. Sierra Wave will have an update from Wednesday's Town Council meeting this week.
Once again Big Pine and Independence lead the East Side with 308- and 291-percent of normal
to date. Bishop comes a close third at 284-percent.
Inyo Public Works is gearing up for what will be an epic run-off. Deputy Director Shannon Platt
updated the Board of Supervisors at Tuesday's meeting. "We're expecting this will be worse
than 2017," he said explaining the department is anticipating 300 cubic feet per second higher
flows than the last epic rainy season. The department is already prepping ahead of what,
hopefully, will be warming temperatures. "We're clearing channels and staging equipment," he
added that homeowners in the Owens Valley should start preparing for heavy run-off on their
own properties to avoid flooding. The County has launched a public information campaign with
information available on its website.