Press release
A special Dignitary —  Col. Greg Martin – will be in Bishop for the Eastern Sierra Music Festival this Friday and Saturday at the Tri-County Fairgrounds in Bishop.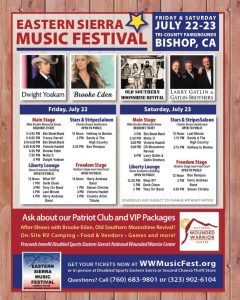 Col. Martin and his wife, Rosie, will be attending with the Colonel briefly addressing the crowd.
He is a former WWBn CO (Wounded Warrior Battalion West Commanding Officer) and current AC/S G-3 at MCIWEST (Assistant Chief of Staff G-3, Marine Corps Installations West).
The Eastern Sierra Music Festival benefits Disabled Sports Eastern Sierra and the National Wounded Warrior Center set to be built in Mammoth Lakes.
Colonel Greg Martin
Colonel Greg Martin entered the Marine Corps and was commissioned a 2nd Lieutenant after growing up in San Diego and graduating from San Diego State University in 1990.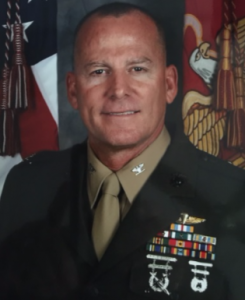 After completing The Basic School, he was ordered to the Field Artillery Basic Officers Course at Fort Sill Oklahoma.
In 1991 he reported to 5th Battalion, 11h Marine Regiment at Twenty-nine Palms, California where he served as forward observer, fire direction officer, artillery liaison officer, and battery executive officer deploying to Japan, Korea, Thailand, and Marine Corps Mountain Warfare School.
In 1994, he reported to the Naval Safety Center for duty as a mishap investigator and weapons and explosives safety analyst.
In 1996, then Captain Martin was selected to command the Marine Security Company at Presidential Retreat, Camp David where he served during the Clinton Administration until 1998.
His duties included leading a select company of highly trained security Marines and working cooperatively with many other agencies including the United States Secret Service, The Federal Bureau of Investigations, and the White House.  As the senior Marine at Camp David, he interacted with the President, first family, and other dignitaries on a regular basis.
He attended and graduated from the Marine Corps Amphibious Warfare School with honors in 1999 and reported to Camp Lejeune, North Carolina where he was promoted to Major and served with 2nd Battalion, 10th Marine Regiment as Battalion Liaison Officer and 6th Marine Regiment Fire Support Coordinator; Commanding Officer, Headquarters Battery, 10th Marine Regiment; and Operations Officer, 1st Battalion, 10th Marine Regiment. During this time, his deployments included exercises at the Marine Corps Mountain Training Center, Coalition Exercise Dynamic Mix in Thessaloniki, Greece and Cold Weather Exercise Battle Griffin in Trondheim, Norway.
In 2002, he reported to the Marine Corps Command and Staff College for a year of masters education.  After graduating, he served as United States Exchange Officer to the Royal Australian Army in Puckapunyal, Victoria where he designed and executed staff exercises and experimentation in the Land Warfare Development Command until 2005. This tour laid the groundwork for several other opportunities to partner with the Australians and other Pacific militaries throughout his career.
In 2005, he was then promoted to Lieutenant Colonel and served as Fire Support Division Head and Chief Fire Support  Instructor at Expeditionary Warfare Training Group Pacific in Coronado, California where he led a group of professional Instructors in providing professional certification courses to hundreds of Marine, Navy, and foreign military students.
While there he was selected to command as the Inspector-Instructor, 3rd Air Naval Gunfire Liaison Company in Long Beach, California until 2008. His duties there included training 250 reserve Marines for deployments to 5 deployments to Operation Iraqi Freedom and exercises in Australia, the UK, the Philippines, Hawaii, Egypt, Korea, and Thailand.
In 2008, he took command of Wounded Warrior Battalion-West at Camp Pendleton, California and held this position until 2011.
This command included responsibility for all Marine and selected Navy Wounded, Ill, and Injured service members from the Mississippi  to the Western Pacific.
Detachments under his command were at Marine Corps Base, Camp Pendleton; Naval Medical Center, San Diego ("Balboa"); Marine Air Ground Combat Center, Twenty-nine Palms; VA Center, Palo Alto;  Marine Corps Base, Hawaii; Tripler Army Medical Center, Hawaii; and Naval Hospital, Okinawa, Japan.
At its peak this command included 650 Wounded Warriors and a staff of 180. Col Martin considers this his most rewarding tour and remains passionate and involved in wounded warrior issues.
Col Martin spent the next year as a Strategic Studies student at the Army War College in Carlisle, Pennsylvania with a class of 200 senior military officers from all branches of the US military services as well as 150 foreign students from our partner nations.  During this time, he completed his master's project on the need for a nationwide community effort to help our wounded warriors heal and live meaningful lives.
He served in a joint assignment as the Policy Chief at U.S. Forces Korea, Combined Forces Command, and United Nations Command in Seoul, Korea from 2012 to 2014. During this time, he served as the U.S. Secretary of the US-Republic of Korea Military Committee in which he was instrumental in negotiating and authoring formal alliance agreements between the two countries as well as preserving the close partnership between the allies.  At the completion of this tour, he earned the designation as a joint qualified officer.
In 2014, Col Martin returned to Camp Pendleton and performed duties as the Inspector General for Marine Corps Installations West and Marine Corps Base, Camp Pendleton before starting his current assignment as Assistant Chief of Staff, G-3/G-5, Operations, Plans, and Training where his responsibilities include training and exercises across the 200 square mile base as well as 4 other western region Marine Corps bases and stations.  He also was the command Liaison to the San Juan Capistrano School District.
Colonel Martin holds Masters Degrees from the United States Marine Corps Command and Staff College and the United States Army War College.
His personal decorations include the Defense Superior Service Medal, the Meritorious Service Medal (with two gold stars), the Navy-Marine Corps Commendation Medal (with one gold star), the Presidential Service Badge, and the Navy-Marine Corps Expert Parachutist Insignia. His foreign awards include the Royal Australian Army Training Command Commendation and the Republic of Korea Chairman of the Joint Chiefs of Staff Commendation.
He is married to the former Ms. Rosie Tamez of Laton, California.  They have four children ranging in age from twenty-two to thirty-one.
Col Martin deploys to Iraq in December.