Press release
On May 5th, 2017 at 5pm, Cerro Coso Community College's Eastern Sierra College Center celebrated the graduation of 80 students – its largest class ever and representing 25% of Cerro Coso's total graduating class!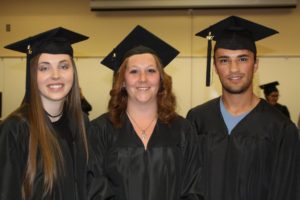 Many of these graduates are fulfilling their dreams by becoming the first in their family to go to college, while others are carrying on the proud tradition of higher education by continuing on to a four-year college.
Ms. Aleana Mullenhour was one of the students who addressed the graduation hall overflowing with students, faculty, friends, family and staff. Aleana said, "I, like many others (930 students including myself) wouldn't be here without the kindness and generosity of the Eastern Sierra Foundation Scholarship."
Each year at graduation, our scholarship students remind us that without the Eastern Sierra Foundation scholarship, many would not have been able to pursue higher education.
This year, nearly half of the Bishop Campus graduates were supported by the ESF scholarship program. One-third of ESCC graduates were ESF Scholarship recipients.
This year's graduates earned degrees and certificates in 26 different fields, including vocational nursing, humanities, math, science, psychology, early childhood development, and paralegal. Many of these students are now working in our community or pursuing baccalaureate degrees.
These scholarships, worth nearly $1,000,000 have supported students attending Cerro Coso Community College's Bishop Campus. Scholarships from the Eastern Sierra Foundation fund 100% of tuition and $300 towards books for ANY Inyo County resident attending the Bishop campus full-time, simultaneously supporting our local students and our local college.
As ESF congratulates the class of 2017 and the achievements of its scholarship recipients, the board of directors looks forward to celebrating the next 80+ students who will walk up on stage to accept their diplomas.
Prospective students may obtain scholarship applications at the Bishop campus in the Admissions and Records Office or at the Counseling Office. Although registration for Cerro Coso's Summer and Fall 2017 courses is currently in progress through August 17th, don't wait!
Scholarship applications are due by the end of June. Anyone wishing to make a donation can make their check payable to the "Eastern Sierra Foundation", and note "Scholarships" on the memo line. Checks can be delivered to any member the Eastern Sierra Foundation Board, or checks can be delivered to PO Box 1145 Bishop, California 93515.
Please contact Jeff Griffiths, ESF President at 760-937-0072 for more information.