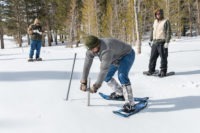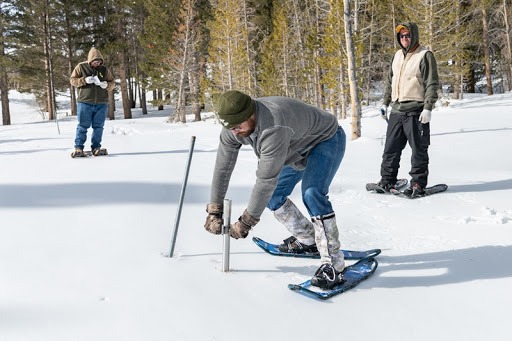 The April 5 Eastern Sierra Current Precipitation Conditions are dismal. Water content in what'sleft of the snow pack is at 7.7-inches of water content, 33-percent of normal for April 1.
According to a press release from the Courthouse News Service, a team from the California Department of Water Resources had trouble finding a patch of snow to measure, ending up with 2.5-inches of snow, the equivalent of 1-inch of water, west of Lake Tahoe. The most recent Los Angeles Department of Water and Power's current precipitation conditions' graph shows a flat line at the 15-inch mark from January through late March. Then the line measuring the 2021-22 snow pillows takes a nose dive.
The only good thing about the statistics: this year is roughly 8-inches better than the driest year
of 2014-15 in early April. That year, the snow pillows zeroed out roughly two months earlier
than previous years.
Starting at Gem Pass, west of June Lake and the north end of the relevant snow pillows, the
numbers look decent at 63-percent of normal to date. Mammoth Pass sits at 59-percent;
Sawmill, west of Black Rock comes in at 41-percent, Big Pine Creek at 47-percent and
Cottonwood Lakes, south of Lone Pine at a dismal 20-percent.
Bishop measured 5.14-inches of rain, or 101-percent of normal to date followed by Cain Ranch
at 78-percent, Long Valley 72-percent, Big Pine 70-percent, Independence, 63-percent and
South Haiwee at 28-percent.