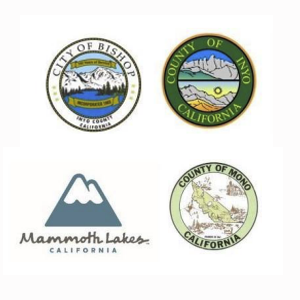 The Eastern Sierra Council of Governments has been a part of a partnership to create a Comprehensive Economic Development Strategy for the Eastern Sierra region (Alpine, Inyo, and Mono Counties) with a data- and stakeholder-informed process to identify priorities and opportunities to bring economic growth the region.
The final portion of the stakeholder engagement process is a survey.  The survey takes approximately 10 minutes and closes on Wednesday, May 24.
The survey is now live and available online in both English and Spanish: https://www.surveylegend.com/s/4xz2
More about Comprehensive Economic Development Strategies (CEDS)
A Comprehensive Economic Development Strategy (CEDS) is a formal document that meets the guidelines put forth by the Economic Development Administration (EDA). The EDA defines a CEDS as "a strategy-driven plan for regional economic development. A CEDS is the result of a regionally-owned planning process designed to build capacity and guide the economic prosperity and resiliency of an area or region." When a region has a CEDS, it is eligible for funding opportunities made available through the EDA's Public Works and Economic Adjustment Assistance programs to advance recommendations and priorities identified in the CEDS.
https://www.eda.gov/grant-resources/comprehensive-economic-development-strategy
Elaine Kabala
Executive Director
Eastern Sierra Council of Governments