Reports from members of the Eastern Sierra Council of Governments revealed no progress with Hot Creek, six council candidates, budget optimism, high speed plans and bad behavior by Verizon: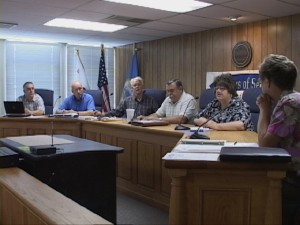 – Before the COG meeting, we talked with Town of Mammoth officials who said they and their attorneys went through a court-ordered mediation with the Hot Creek parties over the lawsuit appeal. No resolution. Town officials continue with the court appeal of the $30 million judgment for Hot Creek. They also continue with an appeal of their insurance company's denial of paying the $30 million.
– The Bishop City Council race will see six candidates try for three seats. Incumbents Susan Cullen and Smiley Connolly will run and so will challengers Ted Gardner, Mary Baker, Laura Smith and Dave Stottlemyre. The election takes place March 3rd.
– Councilman John Eastman talked about reductions in budget expenditures this year and next to make up for the $1 million shortfall. In spite of the million, Eastman said he thinks the Town of Mammoth is in "pretty good shape." He said the revenue sources of bed tax and property tax should be fairly stable.
– Officials continue to work on funding and plans for high speed internet in all of Inyo and Mono counties. Organizers did manage to get a $10,000 planning grant. Supervisor Susan Cash said the goal is "ubiquitous high speed access."
– The Bad Boy phone company better known as Verizon has given Mono County nothing but trouble in the project to complete a communication loop in northern Mono County. This project will provide redundancy to our communication system when someone severs the fiber optic line through the Eastern Sierra. It's all about security of our 911 system, phone service, ATM and credit card machine service. Verizon claims the project costs too much but has so far refused to show the figures. Mono CAO Dave Wilbrecht said Verizon has been "very difficult."