– Press releases from the Eastern Sierra Audubon Society:
Shorebird Field Trip
Learn how to identify those pesky peeps. No longer must you hide from those darned Dowitchers. Be able to walk confidently into the richest shorebird habitat in Inyo County with your head held high.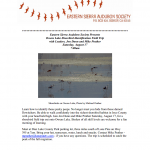 Join Jon Dunn and Mike Prather Saturday, August 17, for a shorebird field trip out onto Owens Lake. Birders of all skill levels are welcome for a fun morning of learning.
Meet at Diaz Lake County Park parking lot, three miles south of Lone Pine on Hwy 395 at 7am. Bring your hat, sunscreen, water, lunch and snacks. Contact Mike Prather – [email protected] – if you have any questions. The trip is scheduled to catch the peak of the fall migration.
####
Eastern Sierra Audubon Society Presents
2013 Owens Lake Fall Big Day
Tuesday, August 20, 7:00am
Our Fall Big Day will be on Tuesday, August 20, 2013. The data that we gather will be used in the management of habitat and birds by LADWP, Audubon Society, State Lands Commission and CA Department of Fish and Wildlife. Your commitment to Owens Lake in real terms is invaluable. Com and help census this Important Bird Area!
Meet at 7:00 AM at the Diaz Lake parking lot. We will have a brief introduction and then go out to the lake in small groups. Carpooling is helpful, although not required. Roads are unpaved, but good. Bring a safety vest if you have one. We will provide them as well.
Dress in layers. August will be hot, but the morning can be cool on the lake.
Bring water, snacks, lunch, hat, and sunscreen. Also bring a camera, bird books, pencils/pens, binos and a scope if you have one.
For helpful resources visit our website: www.esaudubon.org
For more information and to sign up, contact Mike Prather at 760-876-5807 or [email protected]. Be sure to look for and become a friend of Owens Lake on Facebook for updates and great photos!