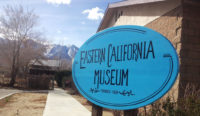 The Eastern California Museum is sponsoring an historical remembrance of the Great Lone Pine Earthquake of 1872 that struck the Eastern Sierra impacting lives, property, and landscapes.
The event takes place on March 26th, 2022 from 10:30 a.m. to 11:30 a.m. at the gravesite of the 1872 Earthquake Victims located on the west side of Highway 395, one mile north of Lone Pine.
The free remembrance event will feature stories and accounts of this powerful event.
Organizers ask that you park along the west side of the highway along the pullout; look for parking assistants. Please bring water, dress for the weather and wear sturdy shoes.
This is an outdoor event with limited seating; Covid precautions encouraged.
For further information and questions, contact the Eastern California Museum at
(760) 258-6574.