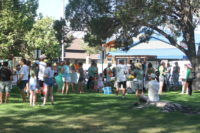 An estimated 80 East Side residents marched in solidarity with those impacted by the recent Supreme Court decision to overturn Roe v Wade, the 50-year old ruling legalizing abortions.
The Court pushed the issue back to the states with the result of a broad range of legislation that could punish abortion providers and criminalize travel to states where the procedure is still legal.
The march from Bishop City Park to Line Street and back to the park, was met with a chorus of supporting honks from passing vehicles and only a few scattered jeers. One of the issues brought out in discussions was the keen interest of children in utero but far less concern when
it came to child care, education and health care funding as well as support for single mothers.
Abortions are still legal in California.