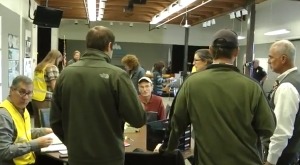 Every November, the State conducts a drill through the county Department of Health. Every year, Public Healht Officer Dr. Richard Johnson and his team put together a drill that would be a likely scenario that would happen within the Eastern Sierra. This drill is meant to prepare all the local partners should an event like this actually take place.
This year's drill took place last Thursday in Suite Z of the Mammoth Town Offices. It was a functional exercise in which Town staff and many others acted out the scenario. The drill this year was based on the scenario of a major earthquake with an eventual loss of power to the Mammoth Lakes area.
Cleland Hoff was on hand for Sierra Wave during the drill.