– Press release
The Rotary Club of Bishop Sunrise invites everyone to Bishop City Park, on US 395 in Bishop CA, Saturday, April 18 to celebrate Earth Day Sierra from 10-4pm. Five fabulous hours of fun with food and drink, live music, fine crafts by local Sierra artisans, activities, educational and informational booths, demonstrations and new experiences for the entire family.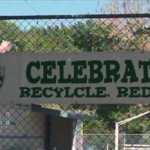 When imagination is allowed to take wing, invention can happen! So is the case
with Over the Top, perhaps the world's ONLY the human powered Ferris wheel. Local Bishop woodworker, Steven White will be offering free rides for those with valid driver's licenses on his fine hand-carved invention.
Olympic triathlon games using trash? From 3-4pm, watch teams compete in 3 amazing events that are sure to make you laugh: Recycling Roadmap, Trash Toss, and Recycle Relay. Now is your chance to participate and witness this event first hand. Contact Triathlon Trash Coach Rick Vahl (760) 760-2452 for info.
Calling all comedians, dancers, soloists, jugglers, poets, performance artists, aspiring actors for Bishop's Got Talent! A real live talent show, from 12-3, featuring Bishop's most entertaining acts. Think you have talent? Call Talent Meister Dee Younger at (760) 258-7314 to sign up and get the specifics. Deadline to enter April 11.
It is never too early to find that special Christmas gift with a great selection of local artisans and craftspeople. Pick up a beautiful welcome mat handcrafted from climbing rope, an elaborately carved gourd, fine handmade jewelry, soaps, or the finest pottery this side of the Great Basin. Face painters will be on hand to decorate your face or chrome dome with a lovely image to celebrate the spirit of spring.
Get your WAPI on! Hands-on demonstrations of the WAPI, aka the Water Pasteurization Indicator, a reusable, inexpensive thermometer that uses a plug of soybean wax to indicate the proper pasteurization temperature—when all disease-causing organisms (bacteria, viruses, and parasites) are killed making boiled water or milk safe to drink.
Cindy Kamler, Executive Director of Eastern Sierra Wildlife Care, the only wildlife rehabilitation facility of its kind in Eastern California, will be on hand to explain the process of rehabilitating native wildlife rescued from roadsides or backyards.  Learn about volunteering opportunities.
The Sierra Nevada Bighorn Sheep is dedicated to the recovery of the unique and endangered Sierra Nevada Bighorn Sheep through conservation, education and research. Dr. Virginia Chadwick will provide information on genetic research, assistance in funding aircraft and critical Bighorn recovery personnel, as well as school and community outreach.
Bring your old batteries down for recycling. Bishop Waste will be collecting them. Did you know that batteries contain toxic heavy metals such as lead, mercury, and cadmium? When batteries are thrown away in the trash, they end up in landfills. Their toxic compounds can leach into soil and water, polluting lakes and streams and making them unfit for drinking, swimming, fishing, and supporting wildlife.Earth Day Sierra gives you the opportunity to do something good for the environment.
In the market for some captivating recycled reading material? The Bishop Library will be on hand with a good old-fashioned library book sale.
Looking for a new best friend? Volunteers from Eastern Sierra Dog Rescue will have a great selection of adoptable dogs from local animal shelters. This is a chance to meet the dogs, ask questions, and fill out adoption applications. There will also be information about dog care, training and how to sign up to be a volunteer.
Tech beyond Tech. Geek for geeks! Connect with Bishop's Earth to Sky Calculus, a group of high school science enthusiasts from right here in Bishop, California, who launch balloons into the stratosphere in hope of deepening knowledge of the upper atmosphere. In February, they launched a helium balloon to the stratosphere. The payload, a cosmic radiation buoy, traveled 112,030 feet above Earth's surface and drifted more than 85 linear miles from the launch site. When it parachuted back to Earth, it landed in a sparsely vegetated stretch of Nevada desert and landed on a Joshua tree.
Enjoy live music, plenty of food and drink, an array of local artisans and craftspeople beneath the shade of Bishop Park's elm trees. Mark the date: Saturday, April 18, from 10-4, Earth Day Sierra 2015 in the park!
For more information call: Nancy Hardy at (760) 920-0006 or
Wynne Benti at (760) 872-1524
###
The Lone Pine Paiute-Shoshone Reservation invites the community to participate in the Third Annual Lone Pine Tribal Earth Day Celebration on Saturday, April 18, 2015 from 9:00AM-1:00PM at the Lone Pine Paiute-Shoshone Reservation Gymnasium located at 1145 E-Sha Lane.  This year's theme: "One Earth, One Chance"
Event Schedule:
9:00AM-10:30AM         Reservation Roads clean-up.
Meet at the Tribal Gymnasium at 9:00AM. Groups will be assigned and transported to designated roadways for a team clean-up activity.  Bring hats, gloves and sunscreen.  (Safety vests, Water bottles will be supplied.)
10:45AM-12:00PM       Community Outreach Fair.
Activities will include: Fire Safe Plant Education, Waste Characterization, Climate Change Education. Food Preservation, Composting, Vermiculture,  Bioremediation, Eco-Friendly Food Service, Community Wellness, Earth Day Crafts/Games and more.
12:00PM-1:00PM        Participant Luncheon
Collaborative Partners:  Lone Pine Paiute-Shoshone Reservation Administration, Lone Pine Paiute-Shoshone Reservation Environmental Department, Owens Valley Indian Housing Authority, Owens Valley Career Development Center-Lone Pine Tribal TANF, and Lone Pine Tribal Youth Education Program.
 For more information you can contact Lone Pine Paiute-Shoshone Reservation Environmental Director, Mel Joseph at 760-876-4690.