Is it too early to talk about skiing at Mammoth Mountain? Not with the white falling out of the sky all day today and expected to continue into tomorrow.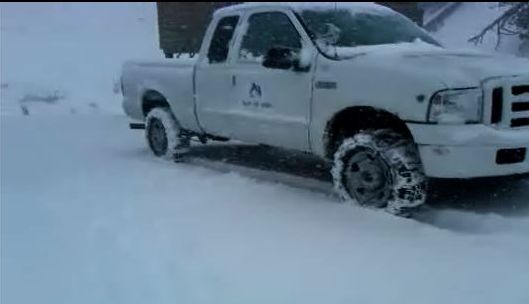 Right now officials at Mammoth Mountain Ski Area are not saying that the resort will open early, but a cryptic message on their website leaves open the possibility, stating the outlook for the next few days is looking very good so you better make sure that your storage wax is scraped off in case this storm lives up to its hype.

The Ski Area is officially scheduled to open November 12, but Mammoth Mountain has a history opening early if the weather cooperates. At last word, it appeared the weather was cooperating.
When wespoke to Joani Lynch with Mammoth Mountain Tuesday afternoon, she explained that management had not yet made a decision on whether or not to try and open early. Lynch did say that while there has been no official word from management, she did expect that staff would have a better idea on the matter by Wednesday afternoon.
Signs are pointing in the right direction for a possible early opener, but the weather is the weather and no one has a say in what it is going to do. At last word there was rain in town, but snow had fallen consistently at Main Lodge which is located at 8900 feet in elevation.
Sierrawaves Forecaster Dennis Mattinson expects snow levels to fluctuate around 9000 feet, and continue all night. He says three feet of new snow is possible in the higher elevations of the Sierra by Wednesday. Temperatures are expected to warm again into this weekend, with a small trough possible on Monday.
Whether the storm comes through for those chomping at the bit to get out on the slopes is yet to be seen.