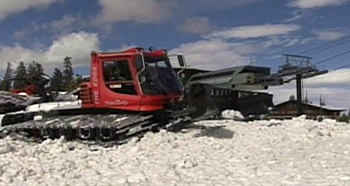 Mammoth Mountain is scheduled for an early opener, again. A large wet storm allowed the Ski Area to open for an extended weekend in the middle of October, but rain and warm temperatures brought that early taste of ski season to a close.
Now, Dan Hansen with Mammoth Mountain reports that the Ski Area will open on Saturday, November 7th, rather than the 12th as originally scheduled. Crews have been busy lately, taking advantage of the cold and dry conditions to make snow to add to the natural version that has already fallen this year. Hansen says that over the last few days, the unbelievably cold temperatures allowed for a tremendous amount of snowmaking. Snowmaking efforts will continue as long as the weather permits.
Combined with the natural snow on the upper mountain, Hansen expects top to bottom skiing next week. Three lifts – Broadway, Facelift, and the upper Panorama Gondola are set to be open starting Saturday November 7th.