Hundreds of immigrants, some legally here others perhaps not, work in and support the Eastern Sierra economy. Some who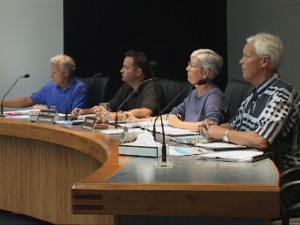 want to halt the hiring of undocumented aliens point to a federal system called E-Verify which helps determine a person's status during the hiring process. Mono County Counsel Marshall Rudolph was asked to offer a presentation on this system to the Mammoth Town Council tonight.
Marshall had earlier offered the same presentation to the Mono Supervisors, who decided to use E-Verify for Mono County government new-hires but not to pass an ordinance that would require private business to use it.
Marshall said a local citizen, Robert Mueller of Crowley, had raised the issue of E-Verify.
As a courtesy to the Town of Mammoth, Rudolph will repeat his E-Verify presentation tonight. He explained that it is an online service of the federal government. Governments and businesses can enroll for free. The County Counsel said when someone prepares to hire an employee, they can enter the person's information into the online site and receive verification of status.
Rudolph said E-Verify is controversial, views are varied and it is even the subject of lawsuits. He said a U.S. Supreme Court case addresses an E-Verify related issue in Arizona. In fact, chambers of commerce are challenging E-Verify's legality.
More tonight at the Mammoth Town Council meeting. E-Verify is the first public presentation after the 6pm start of the meeting.